In honor of Native American Month, Farmington Municipal Schools (FMS) is celebrating the culture, history, and contribution of Native people during the month of November. One of the ways FMS is celebrating Native people is during Native American Week, from November 15-19, when Native students and staff are encouraged to rock their moccasins or wear a ribbon shirt or skirt, wear traditional jewelry, and wear traditional hairstyles. Another way FMS is highlighting Native people, is by making sure Native foods are included in our menus all month long and across all school levels, like our Three Sisters Veggie Blend with corn, tepary beans, and squash, or our Mutton Stew and Cornbread meal, just to name a few of the delicious meals we prepare for our students.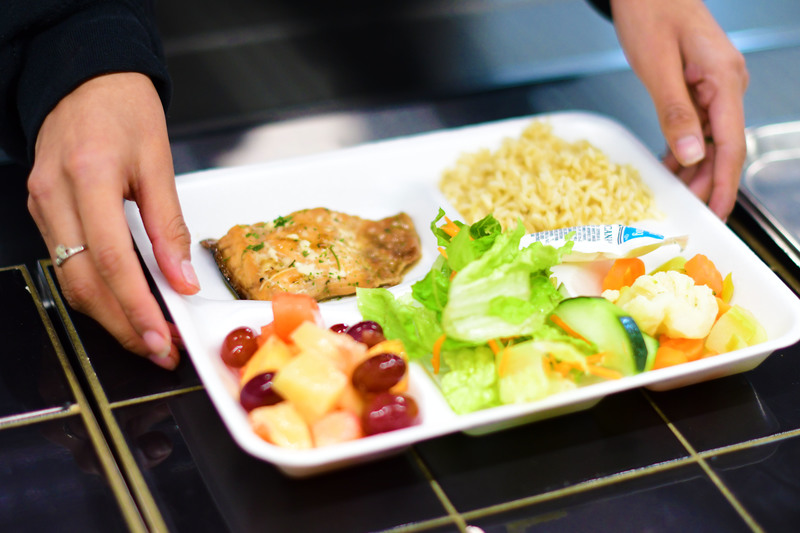 Feature FMS Dish: Maple Glazed Salmon
Making salmon is not as easy as it seems. You have to prepare with great care, make sure the pan is hot and the bottom of the pan is thoroughly coated in oil before you cook the salmon until it's golden.
INGREDIENTS
Atlantic Salmon
Maple syrup
Soy sauce
Garlic
Black Pepper
PREPARATION
Kitchen Site Supervisor of Farmington High School Kimberly Mendoza marinates the salmon on soy sauce the night before. In the morning, she mixes the rest of the ingredients, garlic, and pepper, before glazing the salmon with maple syrup. Then the salmon can be cooked on a pan or skillet, fried, or in the oven. The dish is then served for students with vegetables and rice. It is healthy and delicious.
"I love working in this kitchen and for my students. One of my favorite moments to experience is seeing our kids eat our meals, come back asking for seconds, and thank us for the great food we give them," said Ms. Kimberly Mendoza.
FMS would like to thank not just the hard work of our kitchen personnel, but also their contributions that go beyond what we ask of them, specially Nannabah Randall of Bluffview Elementary School, Myra Slim of Esperanza Elementary School, Helen Beno of Ladera Elementary School, and Tsaa Eagle Henderson of Mesa Verde Elementary School. You rock!