This month, students at Bluffview Elementary are creating artwork centered on "empathy." Teachers at the school taught the topic during the month of November, which is now being followed by creative art projects.
In November, seven 5th-graders created a sign that displayed the message: "Bluffview is falling for gratitude." The themes were autumn and appreciation, including the sign language letters for gratitude.
Ms. Mary Durfey, the art teacher at Bluffview, incorporates social-emotional learning (SEL) into her lessons, integrating those skills into her daily instruction.
"I'm making an effort to connect SEL in all the work we do. I feel like art naturally does a lot of social-emotional learning and how to connect with their world," said Ms. Durfey.
The rest of the student body was then invited to make a gratitude leaf with patterns, including what the students are most thankful for. Their colorful artwork covered most of the wall at the entrance of the school, and included messages in paper leaves with the names of the people the students are most grateful for, or simply decorated with the words "thank you."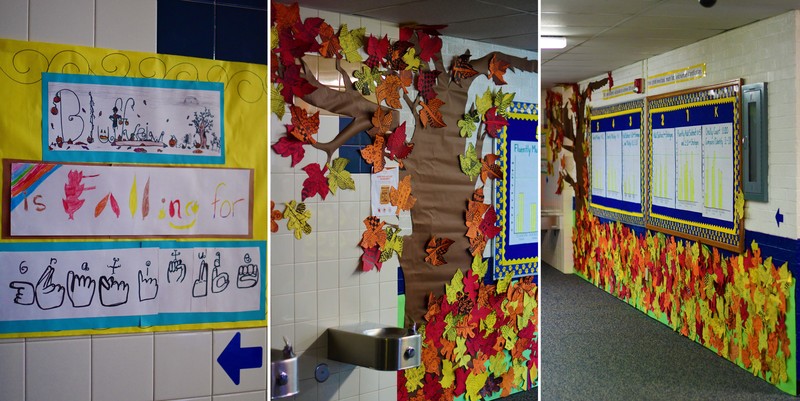 Students create school-family-community partnerships and contribute to safe and healthy communities through social-emotional learning at Farmington Municipal Schools. Students gain confidence, set goals, and collaborate with their peers better as a result.
Research indicates that social-emotional learning has a positive impact on a wide range of outcomes, including academic performance, healthy relationships, mental wellness, and more.
"Our art projects make the students happier and healthier," said Principal Davis. "At Bluffview, one of the most important teaching tools we are using is developing positive relationships between students and teachers."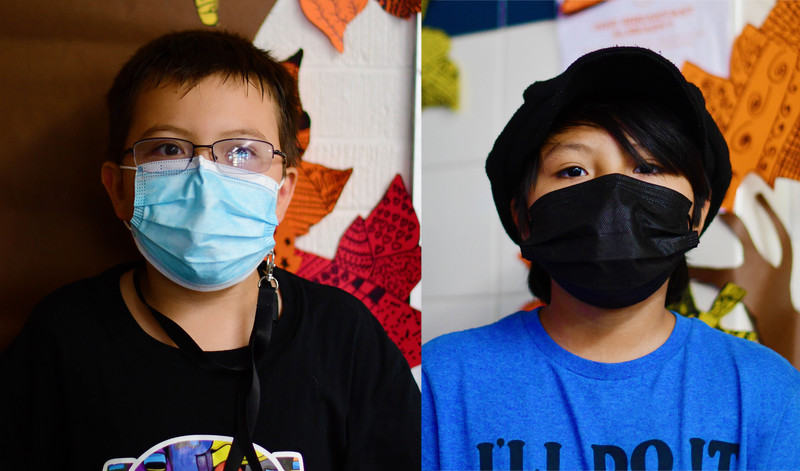 Julian Smiley (left), Drake Henio (right), and Preston Nez (not in the picture) created the main gratitude design. Sign language was also added to the artwork, thanks to Ms. Carlson, who has been teaching sign language to the students at Bluffview Elementary.
Ms. Mary Durfey (right) and Principal Luanne Davis (left). Ms. Durfey has been an art teacher at Farmington Municipal Schools for 11 years, all of them at Bluffview Elementary. Principal Davis has been with Bluffview Elementary for 7 years, and 10 years with Farmington Municipal Schools.