More than 50 incoming freshmen participated in the NC3 National Signing Day on April 14, 2022, at San Juan College. Similar to an athletic signing, students sign a letter of intent to pursue career and technical education.

Dear FMS CTE students,
In the sport of track, athletes running relays make an exchange that is called a "handoff" of the baton. I am proud to say that school districts from across the Four Corners and beyond are making a handoff of high school Class of 2022 graduates to San Juan College.
As a relay partner, San Juan College is an amazing school. I would like to take a moment to acknowledge our post-secondary partner for welcoming you into their family. Also, let me share that Farmington students enrolled in 2554 dual credit courses this year.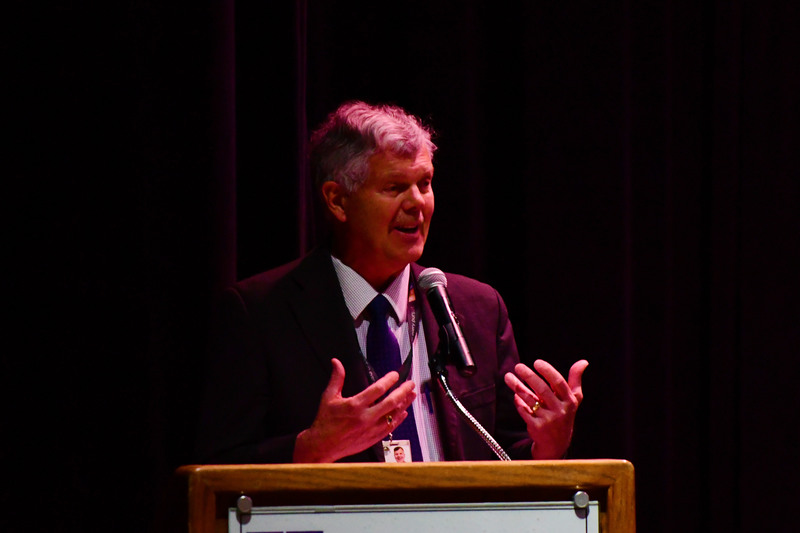 In the photo: More than 50 incoming freshmen participated in the NC3 National Signing Day on April 14, 2022, at San Juan College. The event included messages from Ricky Serna, Acting Cabinet Secretary of the NM Department of Workforce Solutions, Joe Rasor, SJC Board of Trustees Chairman, Dr. Adrienne Forgette, SJC Vice President for the Office for Learning, David Gerken, Snap-On Industrial Account Manager, Arvin Trujillo, CEO of Four Corners Economic Development, and Superintendent Dr. Eugene Schmidt .

On this, your national signing day, I am here to say that your skills, hopes, and vision for the future are badly needed. Your enrollment at San Juan College is welcomed and applauded by all. The concern that the nation is facing a serious workforce shortage was highlighted in an article in the Glens Falls Business Journal, which noted that "skilled trade labor shortages continue as boomers retire, replacements are not there." The article went on to say that an "estimated 31 million skilled trade workers retired in 2020" and that "many of those jobs remained unfilled." The shortage of crafts and trades workers is so severe that companies are bidding for the services of skilled workers. You are about to receive the training needed for meaningful careers. You are the ones the nation looks to fill the worker gap. The world is changing and the workforce of tomorrow must be ready to change with it. Your decision today to begin training for highly skilled, high-wage jobs marks you as special and sets you apart from your peers.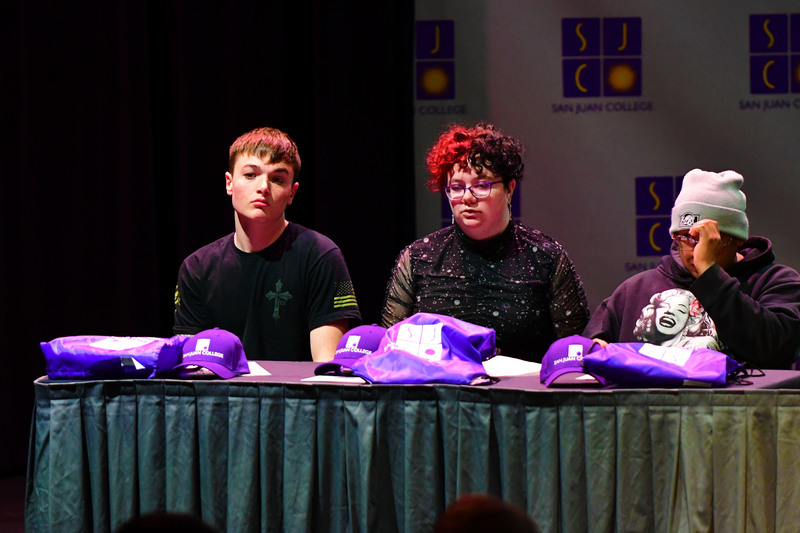 In the photo: Rocinante High School student Lance Wood Jr. (left) signs his letter of intent during today's event at San Juan College's Connie Gotsch Theatre.
As you move ahead in your college years, there are still a lot of races to be run. And, as such, look to your college partner in times of struggle and success. They are here to support you in your transition to college life and the life that awaits as a meaningful part of the local and national workforce.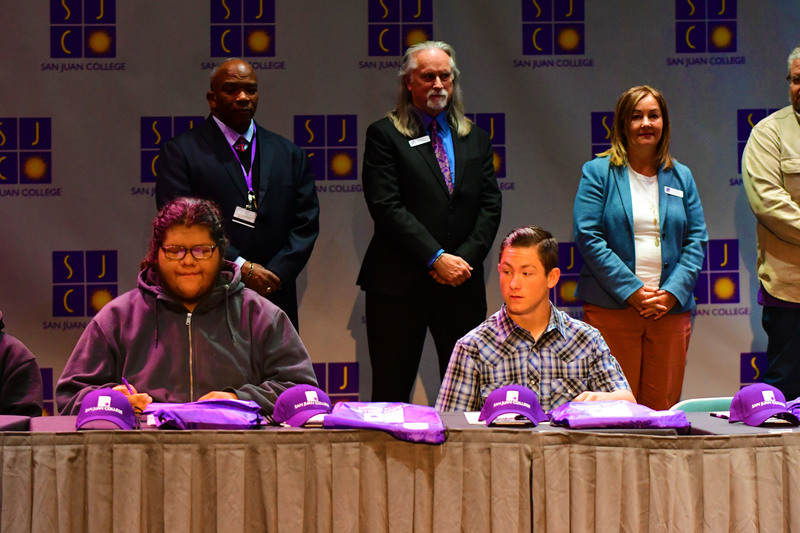 In the photo: Anthony Gillis of Farmington High School (left) is also one of nine recipients of a San Juan College Foundation scholarship of $1,000. Congratulations, Anthony!
In closing, this is your special day students. Take time to celebrate your national signing day. When the ink on your CTE signing document is dried, there is a future payoff. You should be pleased to know that students, who achieve AA degrees, stand ready to earn more than $1 million during their workforce careers. For you, that financial future looks even more profitable as you will take high-skilled, high-paying jobs that haven't even been invented yet and for whose salaries haven't been set. The skills and experiences that you are about to receive over these next few years will position you to be the most sought after, the first hired, and the most valued. I encourage you to make the best of this opportunity. We will be rooting for you.
Eugene J. Schmidt, PhD
Superintendent
---
Let's celebrate the following FMS students that took part in San Juan College's first CTE National Signing Day:
Jennifer Flores, Zaqoria Colman, Anthony Gillis, and Evan Guillet of Farmington High School
Marcos Chavez and Rylee Wilkens-Clary of Piedra Vista High School
And Lance Wood Jr. of Rocinante High School