Three special recognitions, a scholarship nomination, and School Board Redistricting changes took place during the April 12's board meeting.
Family, Career, and Community Leaders of America Recognition
FMS students were involved in the Family, Career and Community Leaders of America or FCCLA, where they connect what they learn in the classroom with career pathways and industry opportunities (high school and college classes students take within a specific field), as well as compete in state and national events. This year, eight students competed at regionals, hosted by FHS at the CATE Center, and two students, Koy Modzianowski and Cobe Downing, qualified for state by receiving Silver. Both Koy and Cobe took Bronze at state with their "Recycle & Redesign" creation which they designed and made in Fashion 3 Class. During the competition, they were able to connect with the judges the concepts of design (draping) and the use of the products in their creation (recycled drapes, fashion/interior design magazines, and snaps).
Top photo: Students Koy Modzianowski and Cobe Downing took Bronze at State Competition with their "Recycle & Redesign" creation.
Student Senate Recognition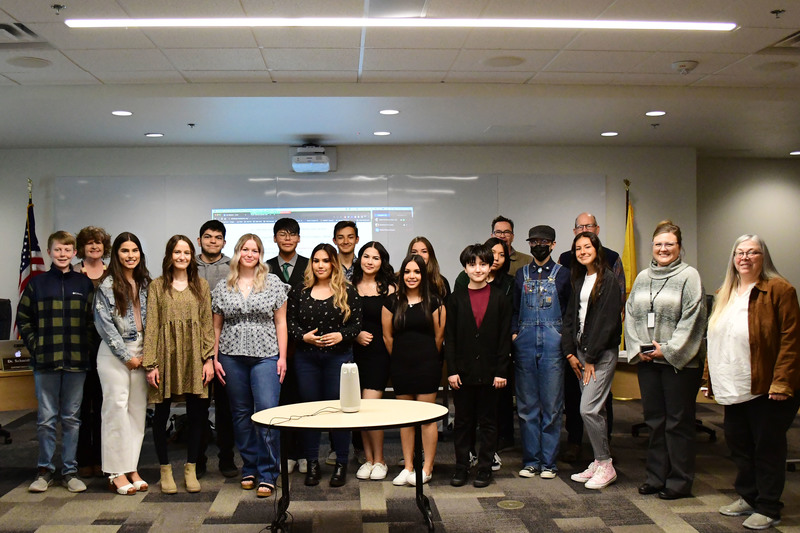 Farmington High School Student Senate earned the "Platinum Student Council of the Year Award" at the New Mexico Association of Student Councils' State Conference. The award is based on evidence of the following: Community Service, Citizenship, School Service, Environmental Awareness, Staff Appreciation, Health and Safety, School Spirit, Membership Motivation, Fundraising, and the NMASC State Project, Project Be Well. See the full list of students below.
Business Professionals of America Recognition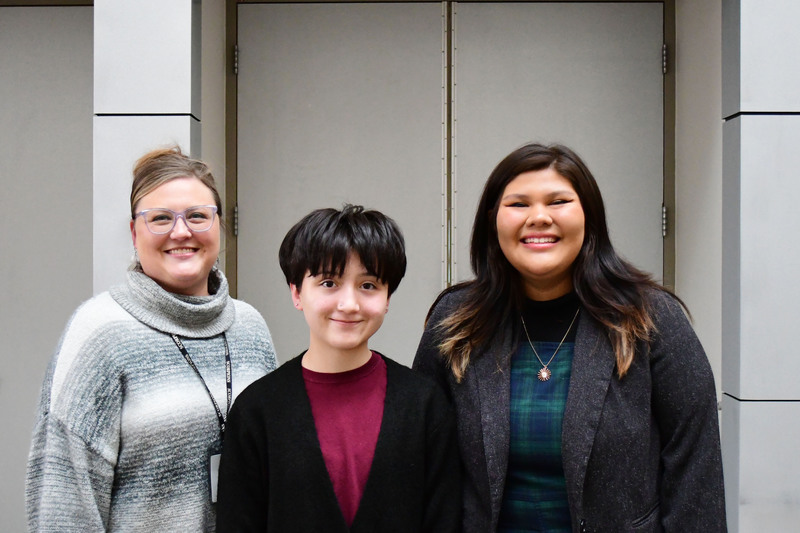 At the Business Professionals of America (BPA) Regional Conference, FMS students Hunter Hastings and Devyn Gamboa earned 1st place and 2nd place in Interview Skills and Graphic Design, respectively. Elizabeth Orozco earned 1st place in Advanced Interview Skills, while Savana Juanico earned 1st place in Extemporaneous Speech. All four members qualified for State, where Hunter earned 3rd place in Interview Skills and Graphic Design and qualified for Nationals, and Elizabeth earned 3rd place in Advanced Interview Skills and qualified for Nationals.
Students participating in Interview Skills must prepare a resume and cover letter to be judged before the conference and then be interviewed by judges at the conference. Similarly, Advanced Interview Skills participants must also prepare a resume and cover letter but also submit a professional portfolio for judging before being interviewed at the conference. Students participating in Graphic Design create a logo, flyer, and pin representing their theme idea for the next BPA National Conference. The logo, flyer, and pin are submitted before the conference for judging and then students must present and explain each design at the conference. Students participating in Extemporaneous Speech are given a list of topics to choose from at the conference and have 10 minutes to prepare a speech on their chosen topic. They are then given time to present their speech to the judges.
Wrestling Teams Recognition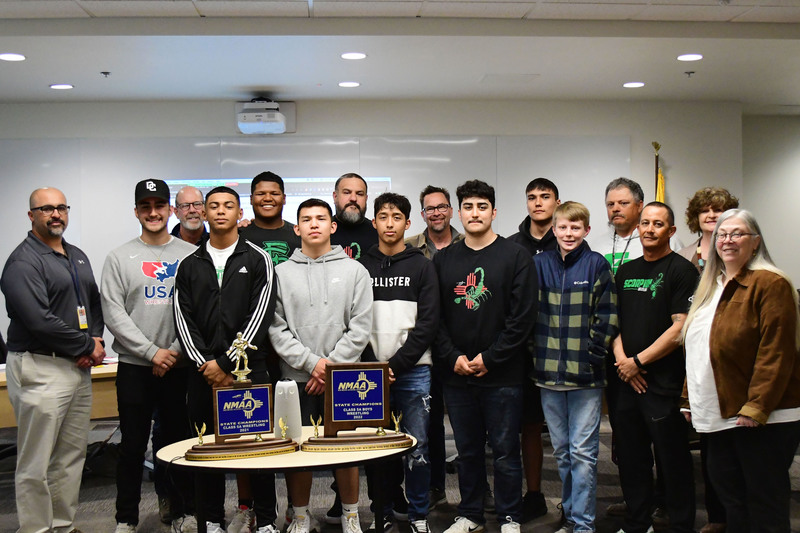 For the second consecutive year, the Farmington High School wrestling team took home a state championship. The boys wrestling team beat Cleveland, La Cueva, and Los Lunas, earning a combined team score of 163 points at the Class 5A state tournament finals. Junior Ivan Smith, wrestling at the 170-lbs. division won an individual state medal. Kioni Benally, wrestling at the 285-lbs., won the first-place medal at the state championships. Both students had nearly perfect seasons.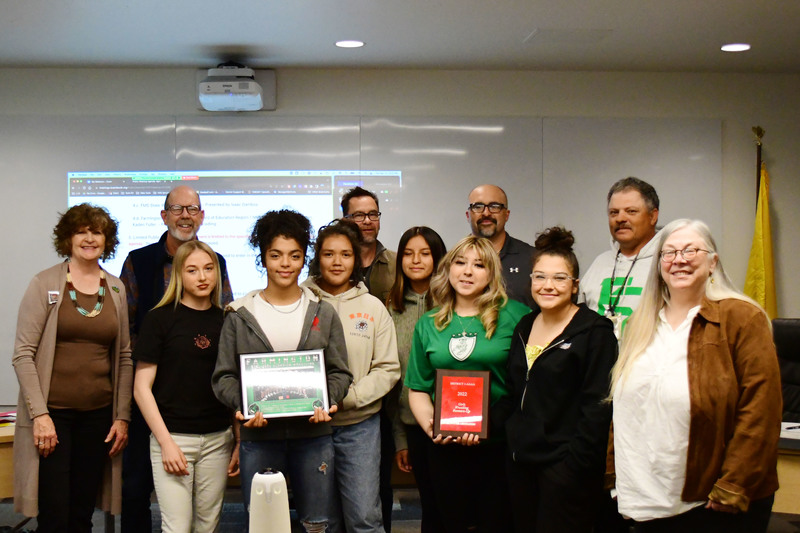 And Farmington High School's girls wrestling team took home a fifth-place title in the state tournament, including sophomore Ebony Smith, who won the 132-lbs. title. This is the first year Farmington High School has had a full girls wrestling team, which coach John Mason also highlighted as a triumph during the school board ceremony.
School Board Redistricting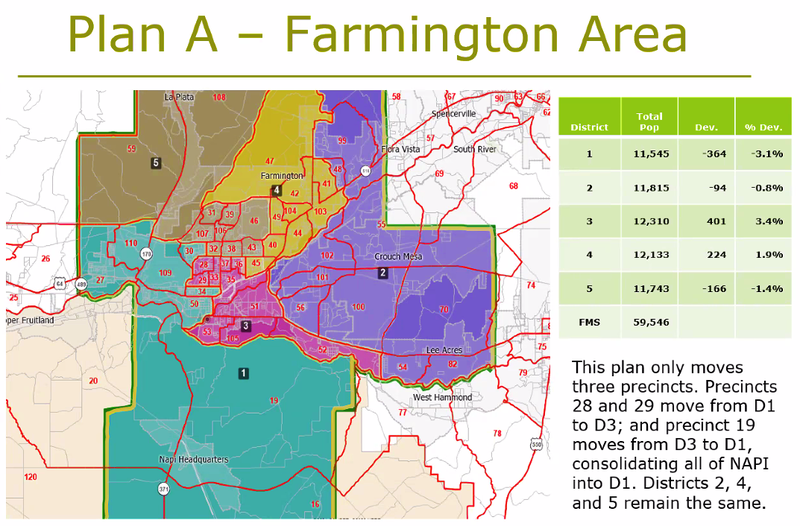 The School Board heard a recommendation from the Redistricting Committee and the firm Research & Polling Inc., to approve a redrawing of boundary lines. This process, which only affects the School Board, takes place every ten years to reflect population changes and to equally distribute the number of voters in each district using Census data.
The process uses equal population, and minority voting rights (not diluting the voting strength of ethnic/language minority groups), compactness, contiguity (no islands of territory), and communities of interest as "principles of districting," for a population of close to 60 thousand.
The School Board will vote on Plan A on the May 10, 2022, School Board meeting. See photo of the proposed map above.
Scholarship Committee Nomination
The FMS Scholarship Committee, composed of board members Joan Vallee and Andra Stradling, along with FMS staff members Erin Gockel and Korth Ellsworth, submitted student Kaden Fuller's name for selection, who will advance to the NM School Boards Association for final selection. The four applicants considered were: Kaden Fuller, Anatasia Garcia, Holly Conley, and Nathan Heidke.
---
The following students are part of the Farmington High School Student Senate:
Emma Addison
Destiny Baca
Cheyae Bell
Kameko Benally
Madyson Briscoe
Kathia Campos Perez
Aylin Ceballos Acevedo
Robert Ferrari
Ellena Foreman
Easten Gibbs
Aubrey Gleason
Jenna Goodluck
Hannah Hamby
Hunter Hastings
Logan Hastings
Shay Haun
Oschyn Henry
Mason Herrera
Star Hinostro
Savana Juanico
Andre Kelly
Leah Lovato
Lareina Maestas
Aaleaha Martinez
Alissa Martinez
Hailey Maryboy
Alyssa Mihelich
Nevaeh Mobley
Elizabeth Orozco
Luis Palma
Kaitlyn Pinto
Anahi Salazar
Bryce Sandoval
Shaina Sandoval
Justin Serrano
Ebony Smith
Kaycee Stine
Riley Trotter
Krystal Tso
Karly Woodside
Kalie Yazzie
Jayla Yoder
Zaira Zavala
Recognition of FHS Student Senate, FHS BPA, and FHS FCCLA was presented by teachers Rochelle Hastings and Kolbe Williams.
FMS State Wrestling Champions recognition was presented by Athletic Director Isaac Gamboa.
Farmington Municipal Schools Board of Education Region 1 NMSBA scholarship nomination to Kaden Fuller was presented by Board Member Andra Stradling.
Recommendation from the Redistricting Committee was presented by Robert Emerson and Brad Morrison of Research & Polling Inc.
About FCCLA: FCCLA is a Career and Technology Student Organization or CTSO, which is academically linked to Family Consumer Science (FCS) classes. Originally called Future Homemakers of America, FCCLA started in 1945 when New Mexico started chapters.
About BPA: Business Professionals of America (BPA) is a Career and Technical Student Organization (CTSO) that participates in competitions in the following areas: Finance, Business Administration, Management Information Systems, Digital Communication and Design, Management, Marketing and Communication, and Health Administration.