Every year, our Farmington community celebrates with hundreds of students who earned a high school diploma and in numbers that have increased every year at the Farmington Municipal School District. In this post, you can see some of the photos and video footage we gathered between May 13-19 during the four wonderful graduation ceremonies of San Juan College High School, Rocinante High School, Piedra Vista High School, and Farmington High School. Learn more about the ceremonies below, which includes excerpts from Coach Dalton's address to the Class of 2022 in between messages from guest speakers, salutatorians, and valedictorians. Congratulations to all of the FMS students who earned their diplomas this Spring!
Looking for photos of graduation? We've put them all in one folder for you here. Enjoy!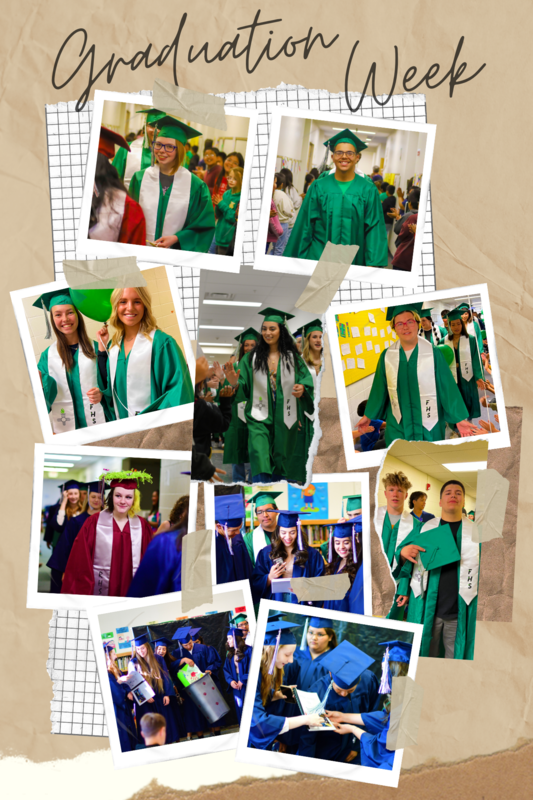 Grads did the Senior Walk-Through at Ladera del Norte, Mesa Verde, Northeast, and McCormick in their caps and gowns right before graduation. It was another opportunity for seniors to celebrate and inspire younger students to follow in their footsteps.
Guest Speaker: Jeffrey Dalton, FHS Alumni Class 2001
You guys were born pretty close to the year 2004 and only about 55 percent of the people in the world had any access to broadband internet. And you can imagine how difficult life was to navigate without TikTok and Instagram. We were absolutely oblivious to what complete strangers around the world were doing and thinking. It was unimaginable. Facebook was invented in your birth year for most of you. It's an app that may be unfamiliar to you but it wasn't an app in 2004. It was an ancient relic that historians refer to as a website or a URL. Saving your password was not an option. You had to type it in every single time. We've come a long way. It has since evolved into an encyclopedia of the disfunction of the human condition. I am Coach Dalton, a 2001 graduate of Farmington High and a proud one at that. I've coached here for 16 amazing years and I'm so honored and humbled to have been asked by the Student Senate to speak to you tonight. One of my favorite things about this place is the diversity. A group of people from all walks of life working to achieve a common goal is the ultimate definition of a team. It is awesome to be part of this team and its tradition of awesomeness. Tonight it's about the Class of 2022. Congratulations.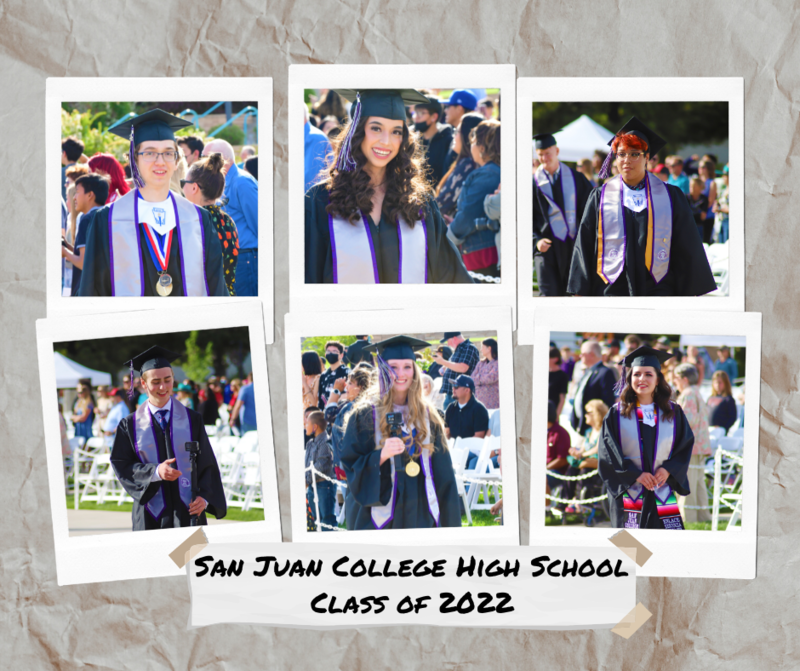 San Juan College High School celebrated 66 students walking across the stage to receive their high school diplomas on May 13, 2022.
Kaden Fuller, San Juan College High School Class President
I woke up this morning to the smell of crackling bacon, I stretched and jumped out of my bed to find my mom preparing breakfast. The only thing warmer than her smile was the stove. My dad came into the kitchen through the back door. There was a solemn feeling in the room. My parents looked at me, and at last, my dad spoke saying "Kaden, you're graduating today. We love you so much...rent is due at the end of the month, and here's your phone bill."
In all seriousness, today is a special day. Preparing for this day I thought about quotes that have shaped my drive as a student and I chose one by a great teacher, Master Yoda, "Do, or do not, there is no try." With the time I have been given today, I want to emphasize the importance of doing and highlight what you've done these past four years. On this day I want to congratulate you on this achievement. You have conquered an accelerated program, a deadly virus, and college-level coursework. Even with these obstacles, we did it, and because we did it, a whole world of opportunities has been opened to us. As a class, we've gone through successes and failures. We have shared laughs, we have shared tears, but whatever trials or struggles we went through to get here, we can finally say that we did not TRY to graduate, we DID graduate. Congratulations, Class of 2022.
Aryianna Briseno, Griffin Scholar
Now we are graduating, and I am so proud of all of us. I'm not sure how it was for you, but personally, going completely virtual for all our classes was very difficult for me. All the classes felt much harder and took even more studying. We also all had some problems in our personal life that correlates with COVID-19. Some of us were also working or interning somewhere, but we still overcame all of this pressure stacked on us and continued to persevere. I'm sure all of us had thought of dropping out of this school, but we didn't. With all the hard work, sleepless nights, and insane amounts of energy drinks, we now all have our cap and gowns on and can check off this milestone. You all did great, and I wish each and every one of you the best of luck in life.
Guest Speaker: Jeffrey Dalton, FHS Alumni Class 2001 (continued)
What now? What do we do? What's going to happen? I put together some random advice for you as you enter the next chapter of your life.
My first piece of advice is to do the things that are going to make you and those around you happy for the longest amount of time possible.
You got to know who your people are. Who will be there when life hits you the hardest. And most of them are right here tonight.
If someone ever borrows money from you and you never see them again it was probably worth the money.
Know the difference between what makes you happy temporarily but may damage you and your people long term, and minimize the damage.
Don't ever embarrass your mother.
Find time in silence with your own thoughts. It will scare you at first but you will learn many valuable things about yourself.
If someone tells you to trust them don't trust them. Trust me it is not worth it.
Being the loudest in the room does not make you the smartest in the room.
You can cook almost anything in medium heat without burning it.
If you ever want to make people irrationally angry publicly misspell something.
Don't worry about half-court shots until you can make lay-ups. We tell you that in PE every day.
Don't resist family pictures. They are going to be one of your most prized possessions.
You'll never be too old to dress up for Halloween.
No matter how cool you think you are singing in the car is a great thing.
A good deed still counts as a good deed even if you don't post about it.
Talking to people in person is way more courageous than talking about them on the internet.
The most imperative ability you can have is availability.
If you are ten minutes early you are on time.
You can't follow your dreams if you don't sleep once in a while.
And your journey is not a means to an end, the journey is the means to the memories. Create memories. Have fun and keep learning.
If you get electrocuted by sticking your finger in a socket you don't need to do it again for verification.
And speaking of pain, the pain of discipline hurts much less than the pain of regret.
If it is worth your time to go to someone's funeral it is more worth your time to go out of your way to spend the day with them.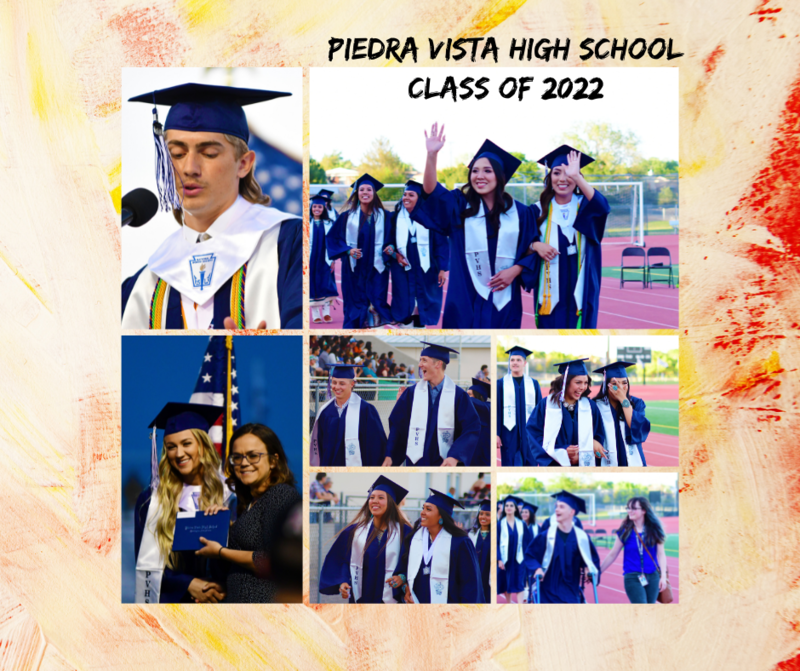 Piedra Vista High School celebrated 291 graduates walking across the stage at Hutchinson Stadium on May 17, 2022.
Lukas Aaron Chavez, Piedra Vista High School Salutatorian
We are leaving high school stronger people. And we will not let others tell us who we are or what we can accomplish. We will tell them who we are by showing them what we accomplish. I'd like to take a moment to thank my parents and family for always sticking by me. I also want to thank my teachers and coaches for pushing me and giving me the opportunity to win as much as possible these past four years. These years have truly been wonder years.
Nathan Heidke, Piedra Vista High School Valedictorian
One lesson I learned in freshman year was to always control the controllables. Situations happen all the time that affect you even if it's not because of something you did. Another lesson high school has taught me is the value of competition. A competitive mindset is one of the best ways to motivate success. Competition promotes creativity and inspires people to challenge themselves, and provides valuable lessons. Competition also motivates those around you and those quality bonds with others which create a stronger impact on society. Competition leads to innovation and enhancements that create a better future for younger generations. Through competition, students can gain a better understanding of how to deal with conflicting opinions and ideas and then work together to find a solution to a problem. Class of 2022 hold the memories from high school in your heart and embrace the next chapter of your lives. Control the controllables as you take the next step in life. And compete in everything you do.
Guest Speaker: Jeffrey Dalton, FHS Alumni Class 2001 (continued)
There are a couple of things I wish I had more fully understood 21 years ago when I was sitting in those same chairs. I wish I had fully understood the power of our ability to change our paths. And that what we do for a living does not define who we are. If the path you choose is difficult and challenges you to become better it is probably the right one. But if your path or your people ever make you feel used chose a different one. It is as easy as blocking someone on social media. Learn to differentiate between what challenges you need to face and what adversity you need to avoid. You don't have to seek problems just to claim that you are better for it. Adversity will find you either way. Prioritize what makes you happy whether it be money or your relationship with God, free time, family, or adventures. They say that money doesn't buy happiness. I cannot confirm that because I have not had the opportunity to make such purchases, however, I've never seen a sad person on a jet ski. Ever.
When you make a choice and it doesn't go the direction you planned it is okay to change your mind. Change your situation, your job, your relationships, and your friends, you don't have to be a puzzle piece that fits in one place.
And work to live, don't live to work.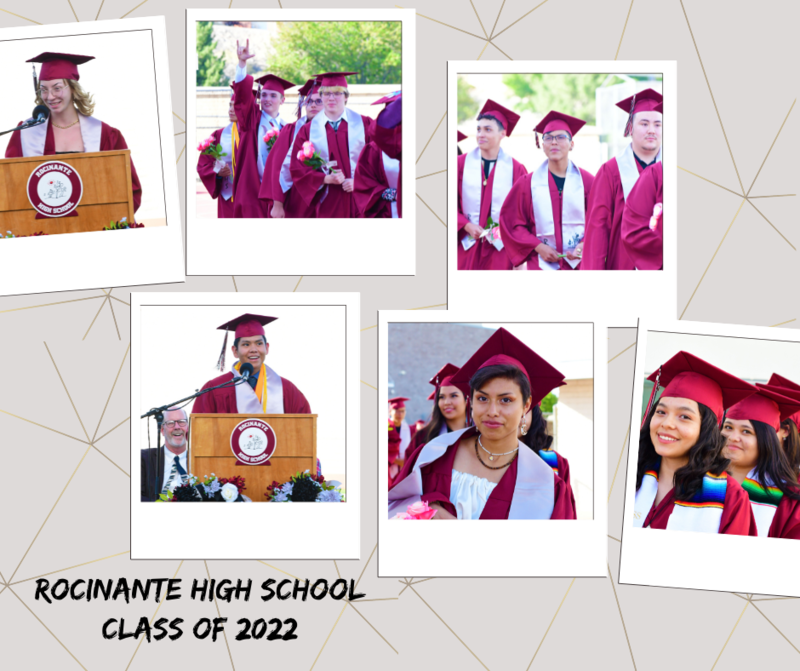 Rocinante High School celebrated the graduation of 60 students at Hutchison Stadium on May 18, 2022.
Shana Mud, Rocinante High School Valedictorian
For all the young ones out there, keep working hard. I know sometimes you might want to think you want to give up but it's worth it in the end.
Kevin Yazzie, Rocinante High School Salutatorian
One of my favorite poets is E. E. Cummings because he didn't follow the rules of capitalization and punctuation in his writing. One of the most liked quotes by Cummings is, "it takes courage to grow up and become who you really are." You need to be bold enough to seat in the driver's seat of your life regardless of what others may think of you or want for you. Be brave with your own life, but know that it's your own choice.
Lexus Charley, Rocinante Student Speaker
My years through high school have been harder than they should've been. I can only blame myself. I underestimated bad friends, bad relationships, bad choices, and how much they can have a toll on you. I learned a lot about myself and the person I am becoming within these nineteen years. I've learned to look forward and not back, and that every day is a new day. As a legend once said, "999 represents taking whatever hell, whatever struggle you are going through and turning it into something positive, and using it to push forward." My goal in life is not to live forever, but to create something that will. You can do anything you put your mind to and give it your all.
Margret Heath, Rocinante Student Speaker
Antoine de Saint-Exupéry, The Little Prince, a quote from one of my favorite books that we read, thank you, Ms. Jones: "I must endure the presence of a few caterpillars if I wish to become acquainted with the butterflies." With making choices I knew could get me in trouble came a kind of discovery, my boundaries, standards, what I like and don't, I started to figure out who I am in these hallways. But it took more than just me alone to find, and build the person I am today. It took Mr. Levine putting away the history books and teaching us about love, relationships, and equality. He told us once to do things today that will make us who we want to be tomorrow. A very special thank you goes to Mr. Russell. It never mattered what trouble I caused or how many times I didn't listen, the number of write-ups, if I didn't do the work, and even in my most disrespectful days, he wiped every slate clean in a matter of minutes. I want you to know how much of a safe place you and your classroom are to me. You saved me on days I had planned to give up whether you knew it or not when I was sitting in your class. Thank you. Ms. Emily would warm up her lunch and give it to me and tell me jokes if she knew I was having a bad day. Thank you, Ms. Emily. You never failed to make me smile. In my sophomore year, I asked my English teacher for a piece of advice that she could give every student. She answered me with a question, "what role do you play in your own suffering?" Ms. Jones, thank you because with that question I turned my life around as the answer. You taught me my potential. And I leave you with a quote from Winnie the Pooh: "How lucky am I to have something so special, that makes saying goodbye so hard."
Guest Speaker: Jeffrey Dalton, FHS Alumni Class 2001 (continued)
I wish I had known what true success meant and that I could choose my own definition of it. We often think of success in terms of wins and losses because we are competitive by nature. Some people though are so afraid to lose that they never try and that is the only way you can lose.
If you use each experience to become a better person, create a better path, or simply learn something, you have succeeded. Maybe you didn't win yet but you've succeeded and the more you succeed and improve every day the better chance you have of winning. Find a way to win.
To me, success is measured in the number of moments of joy you get to experience with the people you love. Work hard and efficiently and earn as many of those moments as you possibly can. Know this, the higher you climb and the more you achieve, the more you will be criticized by those that don't understand your journey, your process, or your heart. Trap out the criticism from the people that don't know you well. People will judge you based on one mistake and you will be tempted to believe them. But your people will never judge you.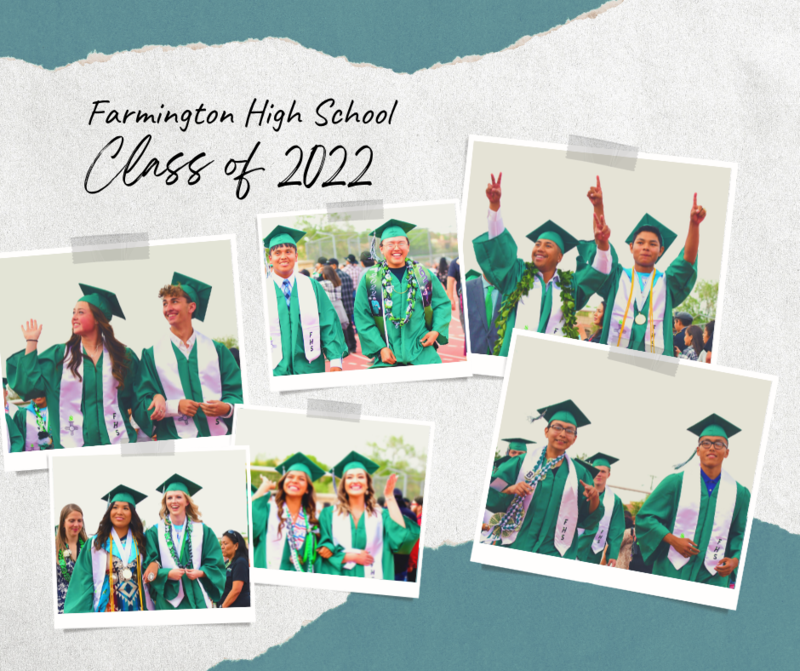 Farmington High School celebrated the graduation of 382 students on May 19, 2022.
Natalia Sawyer, Farmington High School Salutatorian
Everyone will remember the high school students that persevered in their studies during a global pandemic and the students that were masked at school and sporting events. But we will remember our parents and teachers that helped us survive through all the destruction and hardships we faced.
Ethan Nguyen, Farmington High School Valedictorian
Looking back, the knowledge we obtained from history and math classes is not what will be remembered in ten years. It will be the people, the athletes, the artists, the writers, and the dreamers. These people are what we'll be remembering. A question we've all gotten this year is what's next for us? What are we going to do with our lives? Let's be honest, these are questions we don't usually have an answer to. Instead, Class of 2022, I pose a different question for you, who are we going to be? Because in this next chapter we get to decide what values we are going to be taking and what character of qualities we are going to show. Will we choose to be brave? Will we choose to exude kindness? Will we choose to embrace the world with curiosity? In the words of Kendrick Lamar, "when the lights shut off and it's my turn to settle down, my main concern is promise that you will sing about me." Will we choose to be someone that people sing about, someone that people remember? I hope that whatever we choose, each of us will go and try our best to spread kindness and make the world a better place.
Guest Speaker: Jeffrey Dalton, FHS Alumni Class 2001 (continued)
When it comes to success and finding a way to win, my mother, Carol Dalton, my hero in that regard, who worked here for many years taught me about success, and it had nothing to do with money or possession or any material thing. It had everything to do with finding joy in what you have in your life. One year ago, on May 25 she passed, and as I reflected on my journey and hers, I realized her roles in success. I saw a woman that had no regrets and was proud of her family, her community, her faith in God, and the school she watched five of her children graduate from. She was a proud scorpion. I'm proud of being part of the tradition of this amazing school, and the teachers and administrators, support staff, parents, and all of your people are proud to have been a part of your journey. Be proud of yourselves, but don't be satisfied for too long. Keep working and earn your moments.
Again, don't embarrass your mother.
Good luck on the next chapters of finding your path and defining your success. Find a way to win. Congratulations Class of 2022.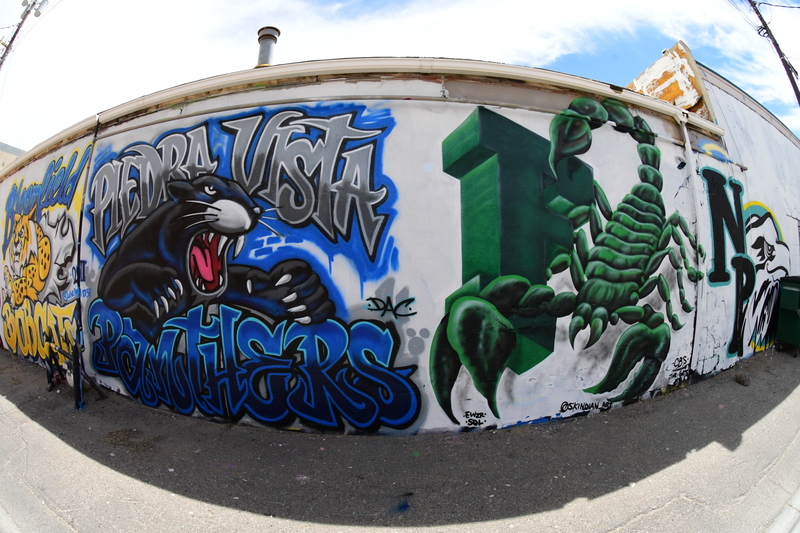 308 W. Broadway in Farmington. @skindian_art
*Howie Morales, Lieutenant Governor of New Mexico
I was thinking about how to characterize the tough couple of years that we've had through the covid pandemic and all the challenges that it created. It made me think about an interesting story I heard once at a commencement speech that the great wartime statesman Winston Churchill gave during the darkest days of World War II in England. It was graduation at Oxford University and he worked for hours and hours on his speech. He walked into the hall, climbed up the podium, his reading glasses were at the tip of his nose, and looking down at everyone there he said, "never give up, never give up, never give up, never give up." And that was the end of his speech.
For most of us making it through four years of high school is hard enough under normal circumstances, but what you've done over the last 26 months is extraordinary. You have survived a once in a hundred-year pandemic that basically shut down the whole world for a time. You made the switch from in-person to remote, to online, to virtual. It was difficult and new. It was a time of transition that you made it through and we applaud your resilience and determination to be here today. It's an exciting time to be graduating and be part of our community in New Mexico. I want to say to all of you to continue your education, do not let this be the end. Whether it is a four-year university or a community college, or vocational school, or the armed forces, take the opportunity, never stop learning, and never stop improving, we need all of your incentives, all your creativity, energy, and hard work.
*Ben Ray Lujan, U.S. Senator for New Mexico
Graduating from high school is an important milestone and make no mistake everyone watching you graduate today recognizes the hard work you've put in and the challenges you've endured to get here. I know that the graduates too recognize all the great effort, and everything their families and loved ones have done to get them here. I'm sure you know, that no one makes it to graduation or to most of life's victories alone. The last two years have been a difficult time in the world, especially for young people. The pandemic shook this country to its core. Simple things like connecting with friends and loved ones became so difficult seemingly overnight. Your high school experience became something more challenging than expected and believe me, high school is hard enough to begin with. Despite the uncertainty and unpredictability of COVID you demonstrated grit and the ability to adapt under pressure, gaining skills that will only help you in the next chapter of your lives. When I see how resilient young people are in the face of adversity, I'm filled with so much hope for our country's future.
I come to you as a United States Senator who was once a high schooler from a small town just like you. And I can tell you that I'm able to serve New Mexico as your senator only because of the support of my whole community. New Mexico nurtured my hopes and dreams when I was your age, and my teachers, mentors, and family helped me become the person I am today.
Class of 2022, whatever you do next in life, remember that this is your home and this is your community. Carry with you the knowledge and values that you learn here as well as the traditions and culture that you learned from your family. Take that same spirit of community that you saw during the pandemic and share it wherever you go.
*New Mexico Lieutenant Governor Howie Morales and U.S. Senator Ben Ray Lujan spoke at Rocinante High School's graduation via video.
Our Graduations In The News: