The smell of roasted chiles filled the air of Farmington High's Aux Gym. Soon the smell of vegetables and the sound of laughter would fill it too. Team Longoria was there making "Green Chile Pasta," and telling people that "Every day is Halloween." The Green Hot Chili Peppers were there too, making "Stuffed Sopapillas" filled with lettuce, tomatoes, green chile, and shredded chicken. Team Patriotic Pancakes was making "Red, White, and Blue Pancakes," served with bananas, strawberries, and blueberry syrup. Team Waffles was making "Ratatouille," a French dish of stewed vegetables now with a New Mexican twist.
Thirty-two of our students participated in our 1st Jr. Chef Competition on September 17. They were adventurous and confident, blending flavors and ideas, and asking themselves what will combine well with their ingredients. Will tomatillos work? Will mangoes add the flavor I'm looking for?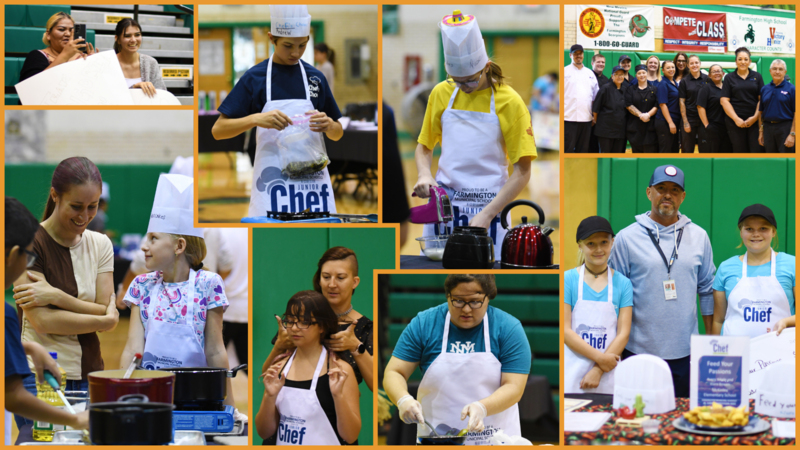 Organizers weren't sure about the level of participation they would see for this first outing, but after seeing the number of teams registering and the enthusiasm that the competition generated they decided that it will be back in 2023. The event, they said, it's expected to get bigger and have more prizes.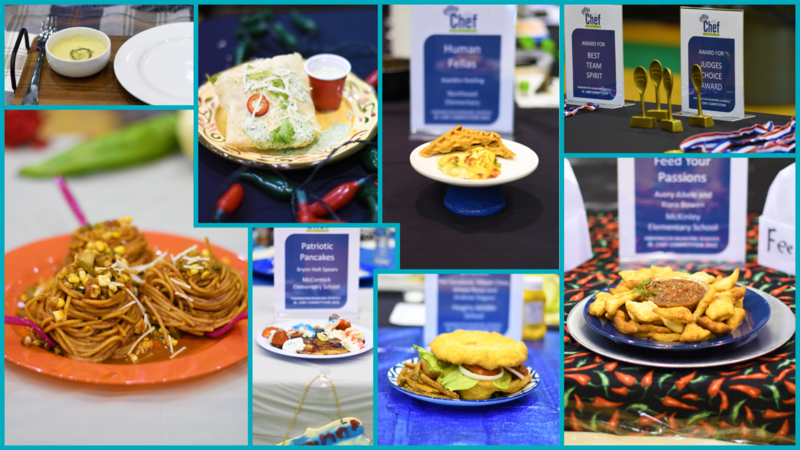 Congratulations to the following winners:
Judges' Choice: Team Feed Your Passions from McKinley Elementary School. Students Avery Aikele and Kiara Bowen made "New Mexican Sopapilla Chips and Salsa." Avery and Kiara received $500 each.
Best Recipe and Taste: Team Chef's Choice from Heights Middle School. Students Rie Sandoval, Allison Chee, Aimee Roop, and Andrew Degner made "Green Chile Navajo Burger." Rie, Allison, Aimee, and Andrew received $25 each.
Best Team Spirit: Team Tastemakers from Hermosa Middle School. Students Reese Robbins, Emily Boognl, and Blake Robbins made "Chile Rellenos."
Best Presentation: Team Longoria from Mesa View Middle School. Student Troy Longoria made "Green Chile Pasta."
Our Food Judges were:
Travis Torres, Farmigton High School Foods Teacher
Chef Corey Sanville, K-12 by Elior Regional Chef
Skye Farmer, K-12 by Elior Director of Operations, COMPET
Big shout-out to our organizers, staff, and food judges for a wonderful and well-organized event! A big shout-out also to our parents and sponsors for supporting our students. You rock!
Want to get ready for next year's competition? Start practicing now and get used to cooking while wearing disposable gloves. See you in 2023!
Top photo: Students Isabella Torraco and Kassidy Beckner of Team Heights Knives make "Volcanic Pasta" during the 1st Junior Chef Competition at FMS.