Our Central Kitchen staff was making Blue Corn Mush since 5:45 in the morning. By the time we arrived, the dish was done and placed in lined containers to be taken to the Preschool Academy West and Tibbetts Middle School.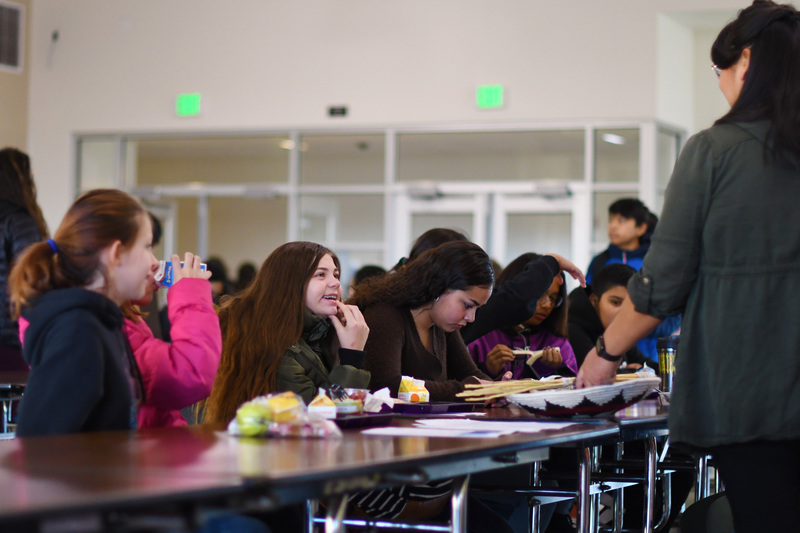 Want to make Traditional Blue Corn Mush at home? For four servings, you will need four cups of water, one cup of roasted blue cornmeal, and two teaspoons of cedar or juniper ash. Mix and make sure there are no clumps. Turn the pot to high heat, bring it to a boil, then lower the heat. Garnish with fruit or nuts for a balanced meal.

Those were the instructions of Denee Bex, Registered Dietitian with Tumbleweed Nutrition. Ms. Bex explained to our students at Tibbetts MS about the dish's taste and how it could be perfect for breakfast with the family, in addition to being nutritious.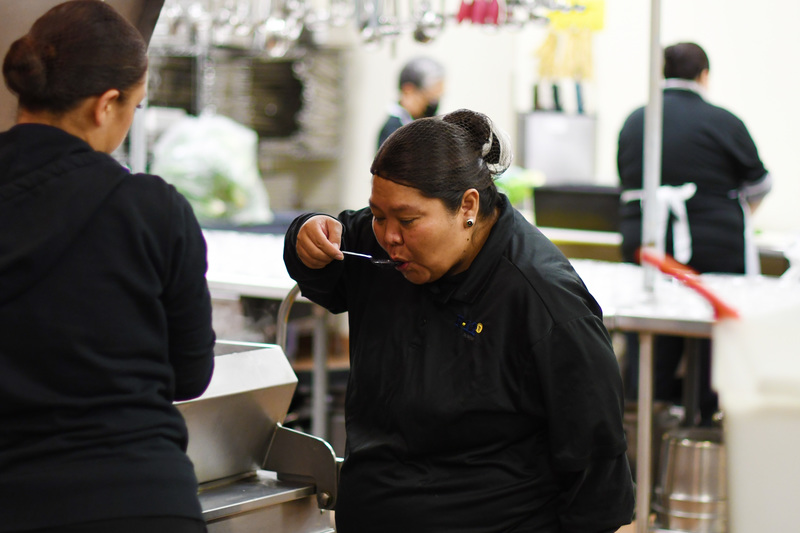 Tibbetts Site Supervisor Myra Slim tastes the Blue Corn Mush to make sure it's ready to be served.
At the Preschool, Zach and Mary Ben from Bidii Baby Foods of Shiprock were doing a similar presentation to our younger students. Both presentations are part of the district's celebrations of Native American Heritage Month.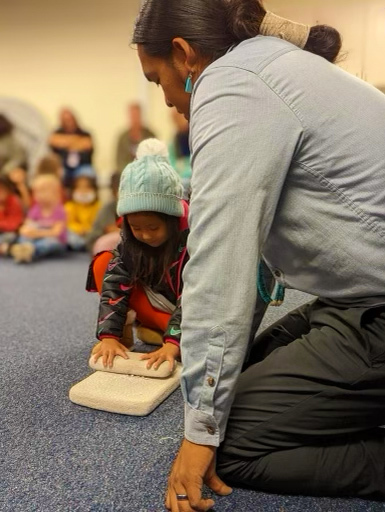 Preschool students listen to a presentation from Zach Ben of Bidii Baby Foods.
"Nature provides this food for us, that's the type of nutrition we put into our bodies. We want to feel that nurture, we want to feel that love we instill into our crops and our farm, which we are sharing with you today. All the hard work, all the resources, the water, the land, the tools, we put all that hard work into the farm to produce corn, to kneel it down to get it here. Please enjoy it. You'll taste all the hard work and love we put into it," said Zach Ben.
Huge thanks to our Student Nutrition Department and K12 by Elior for the delicious choices they give our students and for letting us get some footage of how they made food. Our thanks also to Zach and Mary Ben, and Denee Bex for taking part in this wonderful event.
This Friday, November 18, Blue Corn Mush will be served at all of our schools. Don't miss out.
Top photo: From left to right, Myra Slim (Site Supervisor at Tibbetts), Denee Bex, and Rosie Atencio (Cook at Tibbetts).