We are looking for outgoing and dedicated educators and supporting staff. Join us, Farmington Municipal Schools is a great place to teach and work! We are rising to excellence in every pursuit! See our open positions at farmingtonschools.info/careers. Apply in advance and interview on Wednesday, May 31. See you there!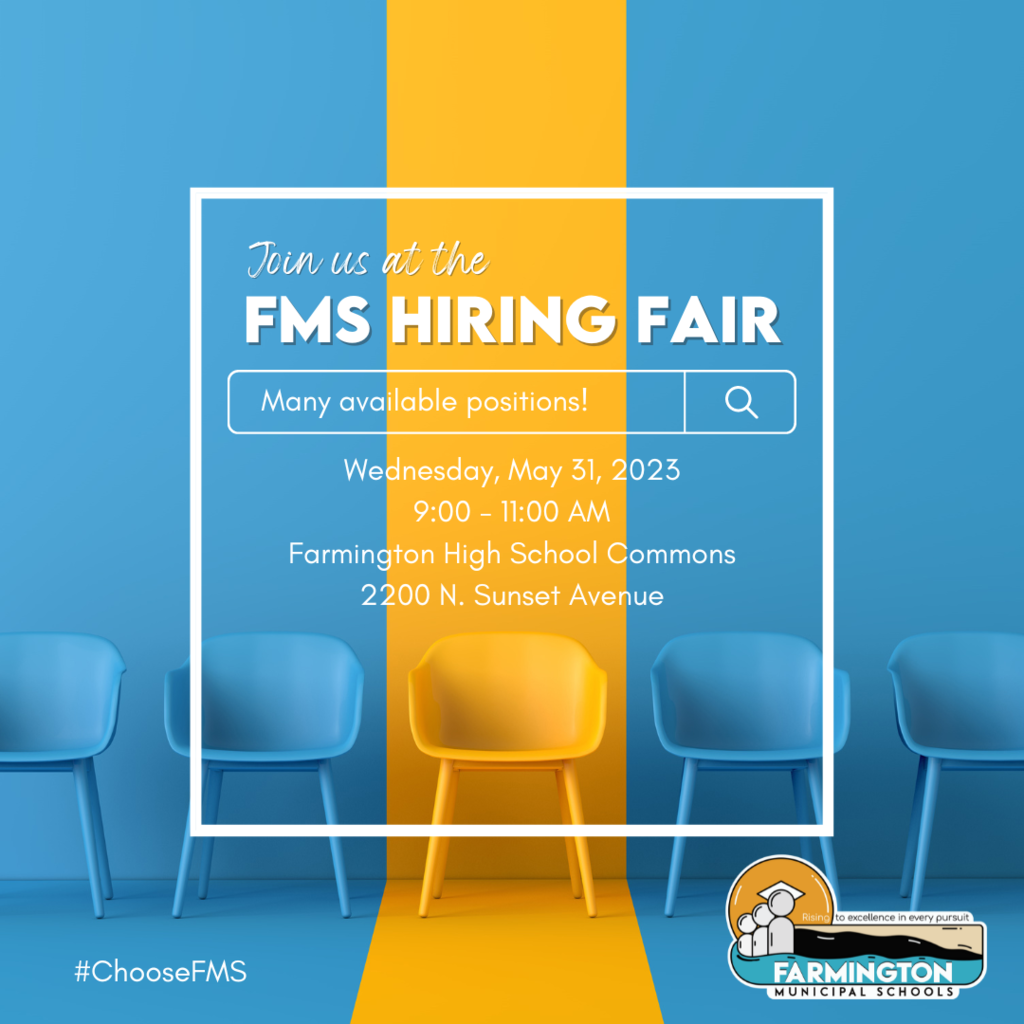 We want to hear from you! FMS Student Nutrition is helping to conduct a survey with Save the Children and Bidii Baby Foods to ensure that our school lunches are the absolute best! This survey will provide greater insight to what students love in their lunches, and what changes we can make. Please talk with your student and share your opinion! . Please take the Save the Children survey here:
https://farmingtonschools.info/SaveTheChildrenSurvey
. #NoKidHungry #SchoolLunch #RisingToExcellenceInEveryPursuit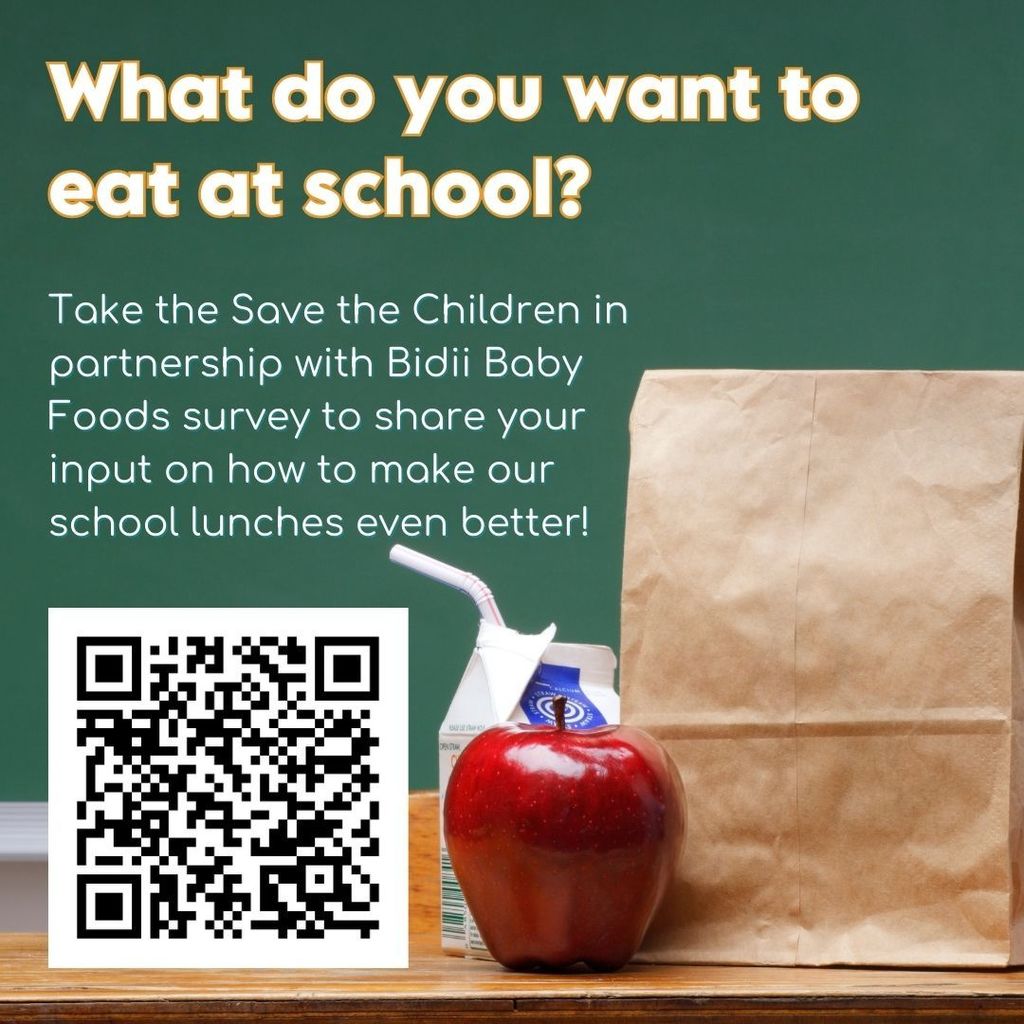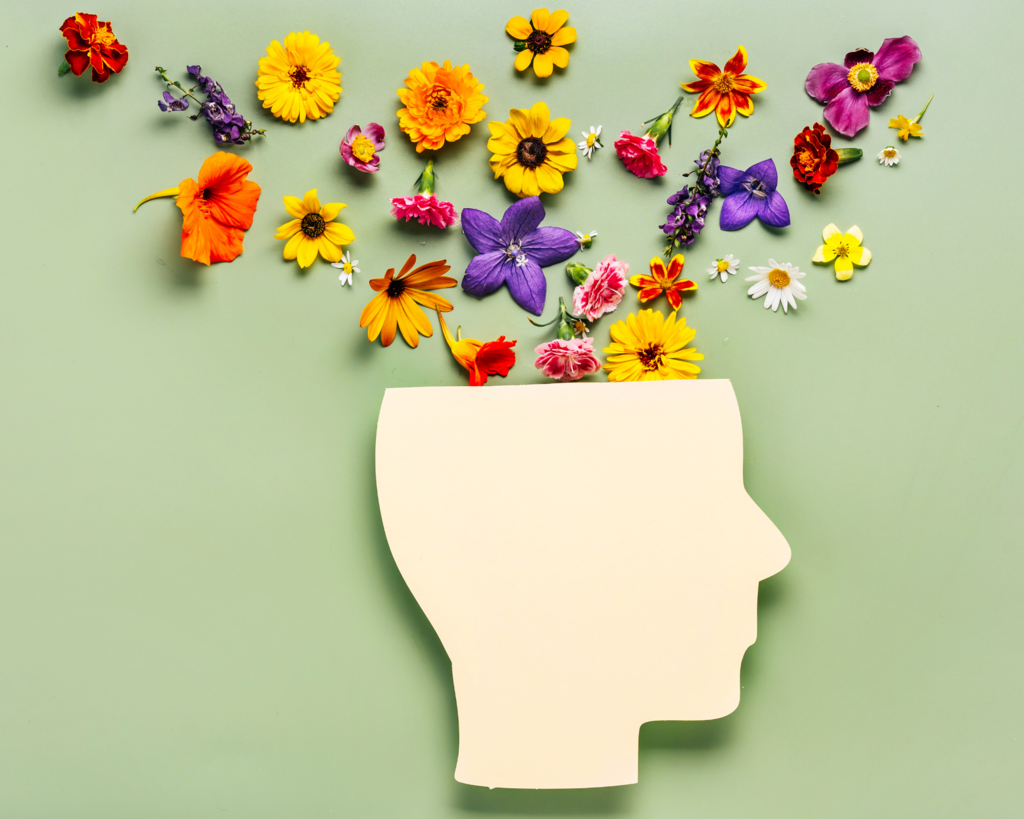 We want to give a big thank you to the FMS maintenance staff for their amazing efforts in getting our venues ready and tidy for the graduations this week. We appreciate all the hard work they put in before and after the ceremonies. On behalf of everyone here at FMS, a heartfelt thank you!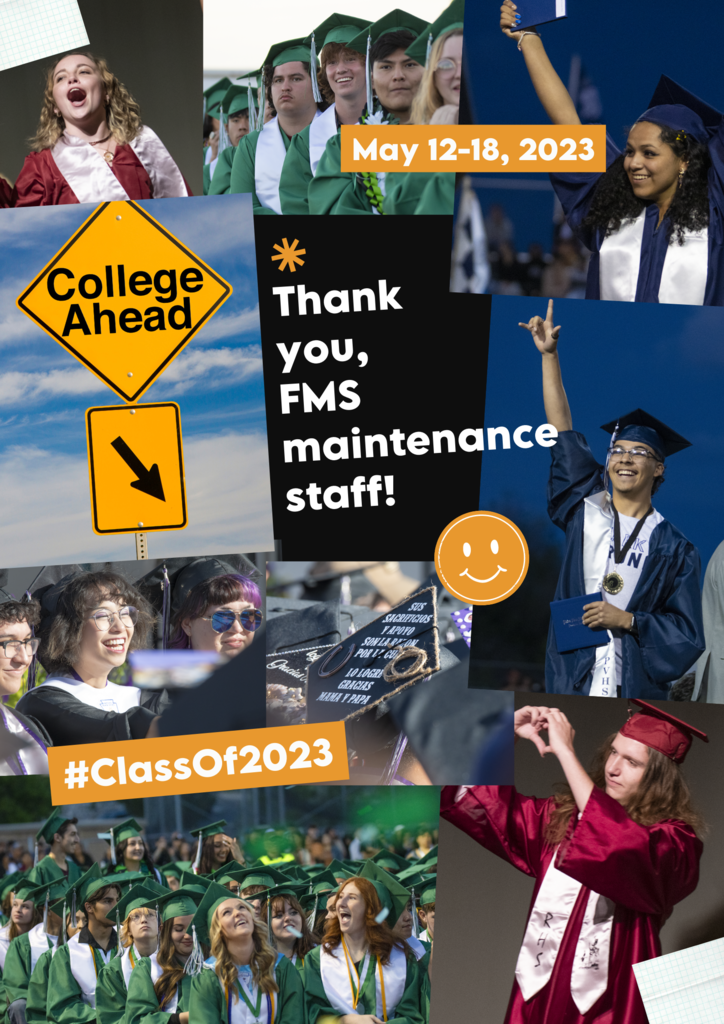 ✳️ May 15, 2023, 1:05 PM UPDATE: The Farmington Police Department has notified us that all preventative lockdowns can now be lifted. All students will be released. Busses will pick up students and drop them off following their normal runs. Thank you for your cooperation during these changes, FMS families. ✳️ 12:40 PM UPDATE: Families of Apache, McKinley, Central Kitchen, and Cate Center, the schools and sites are now under a preventative lockdown and will remain so at this time at the request of the Farmington Police Department. All students and staff are safe. Students have received meals. ✳️ 11:40 AM UPDATE: FMS families, Apache and McKinley elementary schools, Central Kitchen, and the Cate Center will remain in an emergency lockdown. The preventative lockdowns for all remaining schools have now been lifted. Students will be released. Busses will resume their schedules. We will provide you with more updates shortly. ✳️ 11:15 AM ORIGINAL POST: FMS families, all of our schools have been placed in a preventative lockdown at the request of Farmington Police. Apache and McKinley elementary schools, as well as Central Kitchen and the Cate Center, have been placed under an emergency lockdown due to police activity in the area. Parents will not be able to pick up their students until all lockdowns have been lifted. More information will be provided as soon as the lockdowns have been lifted.

FMS, let's show our support for teachers and their special projects! Today, we want to bring your attention to the Foundation for Excellence. They are raising funds for unique projects in our schools that enhance our children's educational experiences. This year the Foundation helped projects that included creating an elementary classroom garden, exploring the world of flying drones, and even composing new music for our middle schools, among other exciting initiatives. Let's come together and contribute to more wonderful initiatives in 2024! 👉 The Foundation's main event is the Race to Educate. Consider supporting it:
https://farmingtonschools.info/RaceToEducate2023
. 👉 Read more about the projects funded by the Foundation:
https://www.farmingtonschools.us/article/839280
.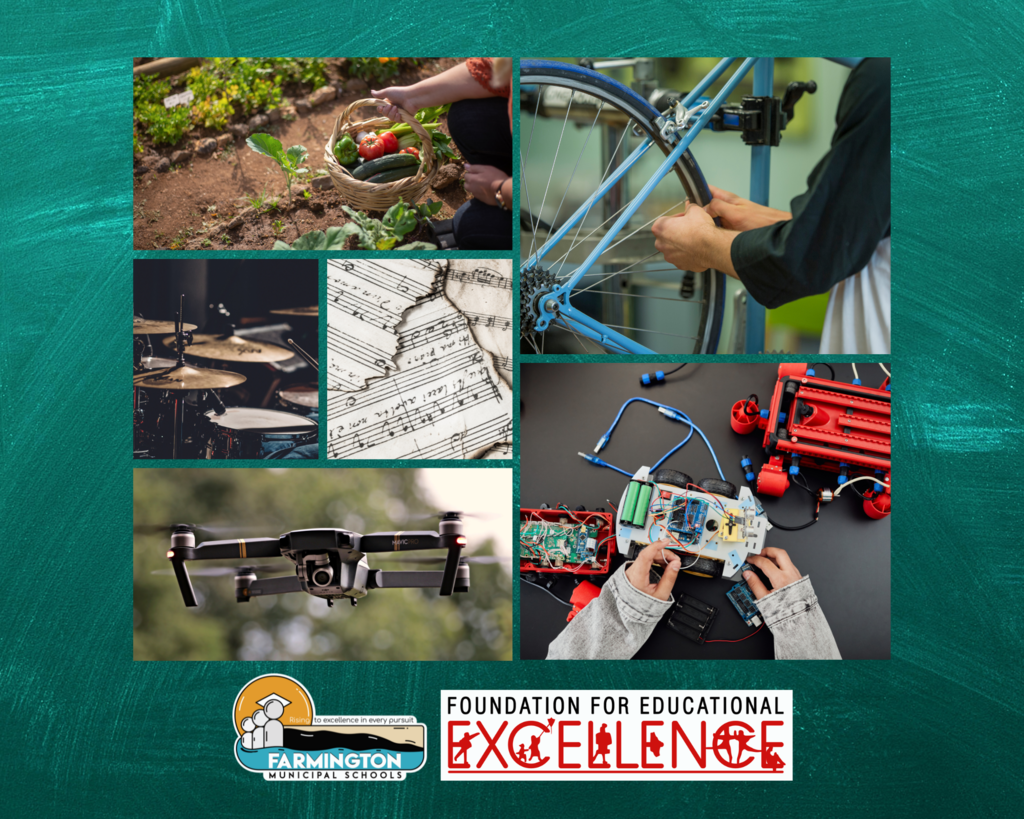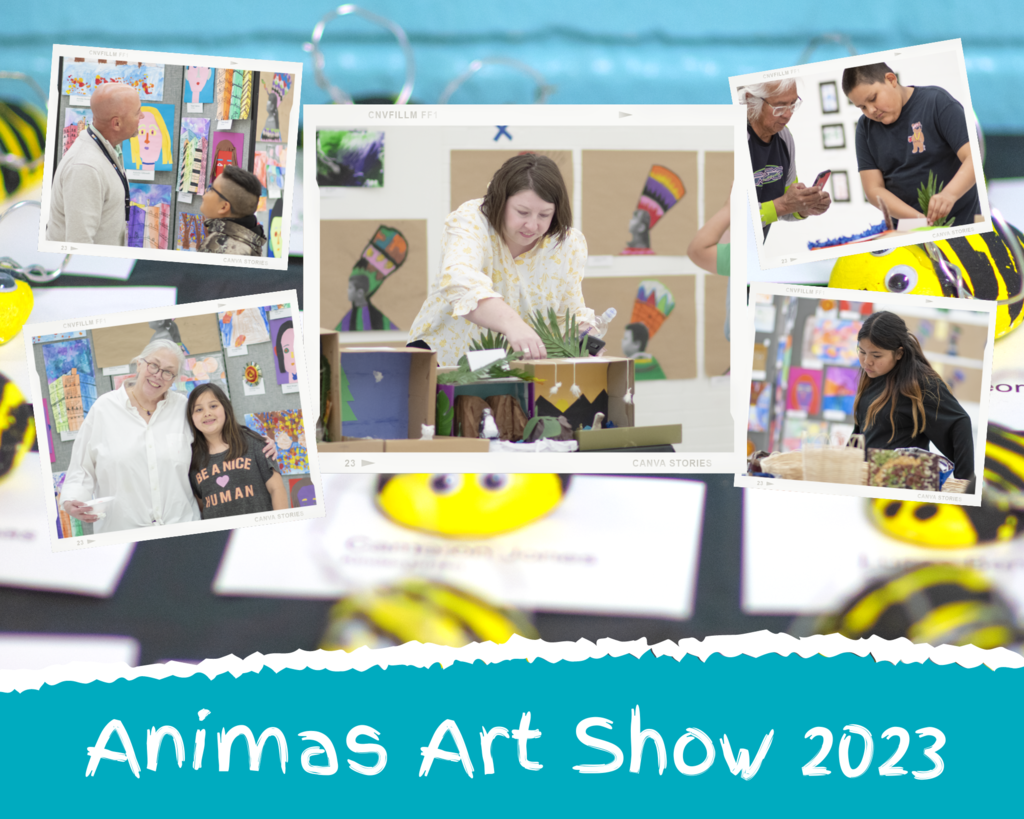 From Stacy Chang, Director of Nursing and Student Wellness – Today is National School Nurse Day! Let's take a moment to appreciate our school nurses who have a positive impact on the well-being of children every day! This year, our nurses have been busy taking care of the health needs of our students. They have had a total of 89,349 visits to the health offices, where they administered medications 9,716 times and performed 7,029 medical procedures. Additionally, they conducted 12,719 screenings to ensure that children receive the support they need in areas such as child find, vision, and hearing. We are grateful for our school nurses and the incredible work they do to keep our students healthy! Also, a special shout-out to our health assistants for the support they provide our nurses. Thank you! Our FMS Nurses are Amy Elliott, Carly Mead, Michelle Cooper Holguin, AmberLee Gonzales, Carrie Lingo, Katie Fraker, Cassandra Gamboa, Rainee Loebs, Kayla McMinn, Taylor Lusk, Cheryl Hanstedt, JJ Holt, Patricia Sandoval, Angie Ochoa, Mark Burnham, Melissa Christenson, Lauren Roberts, Mandy Lundy, and LeighAnne Jensen.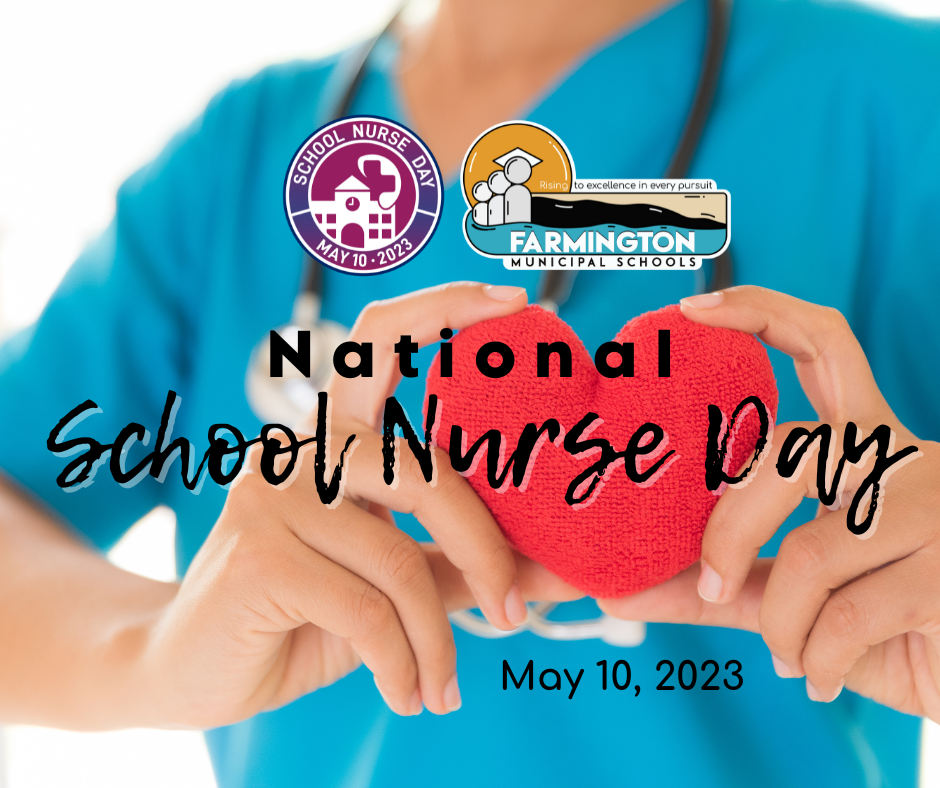 Great teachers make us feel seen and empowered as learners. As we celebrate Teacher Appreciation Week, we will share videos and messages that touch on the impact educators have in our lives all week long. Let's celebrate teachers, FMS!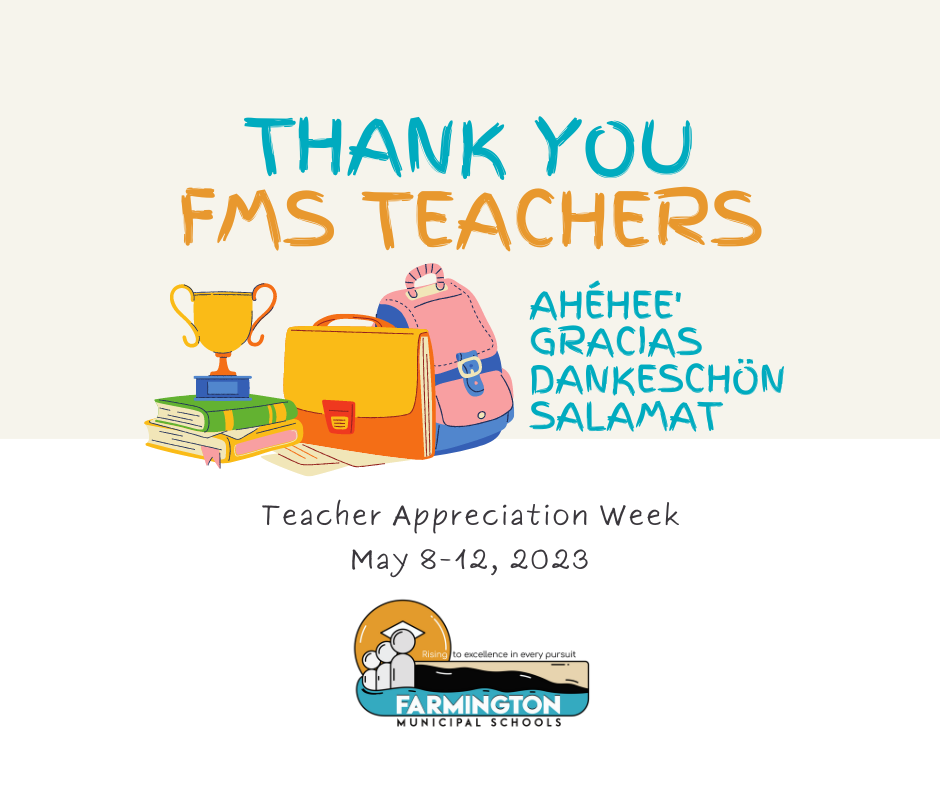 During the FMS school year, our school kitchen personnel prepare three thousand breakfasts and seven thousand lunches every day (more than 2 million meals in one year). That's why they are School Lunch Heroes on #SchoolLunchHeroDay! #SLHD23, which takes place on Friday, May 5, 2023, marks the 11th anniversary of the observance all about recognizing the hard work school nutrition professionals do and the way it benefits children's education and growth. Thanks, School Lunch Heroes for ALL you do, we salute you!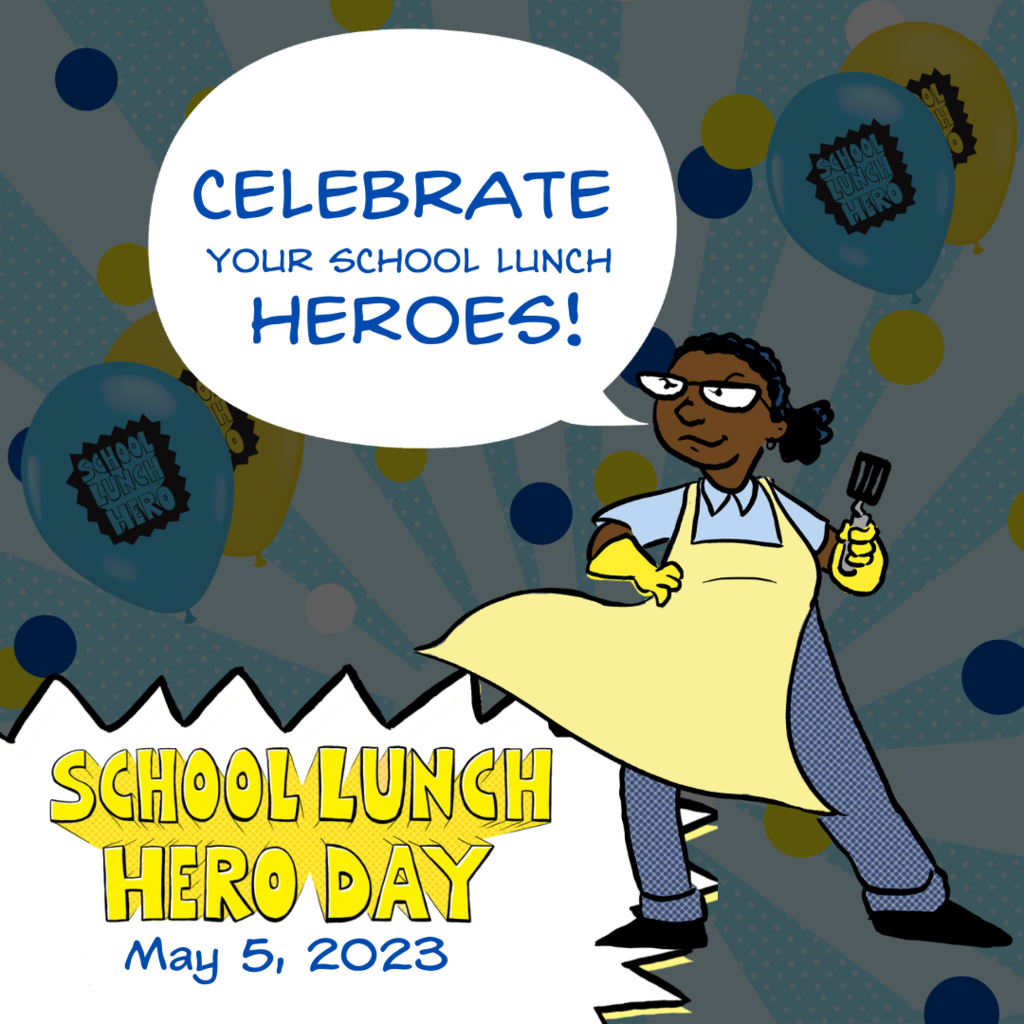 Congratulations to our tennis doubles competing today at state! Your 5A State Girls Runner-ups are Naomi Beck and Marley Deswood of Farmington High School. And the 5A State Boys Runner-ups are Charles Briones (Farmington High School) and Conner Clark (Hermosa Middle School). All student-athletes from Farmington High School. You played so well!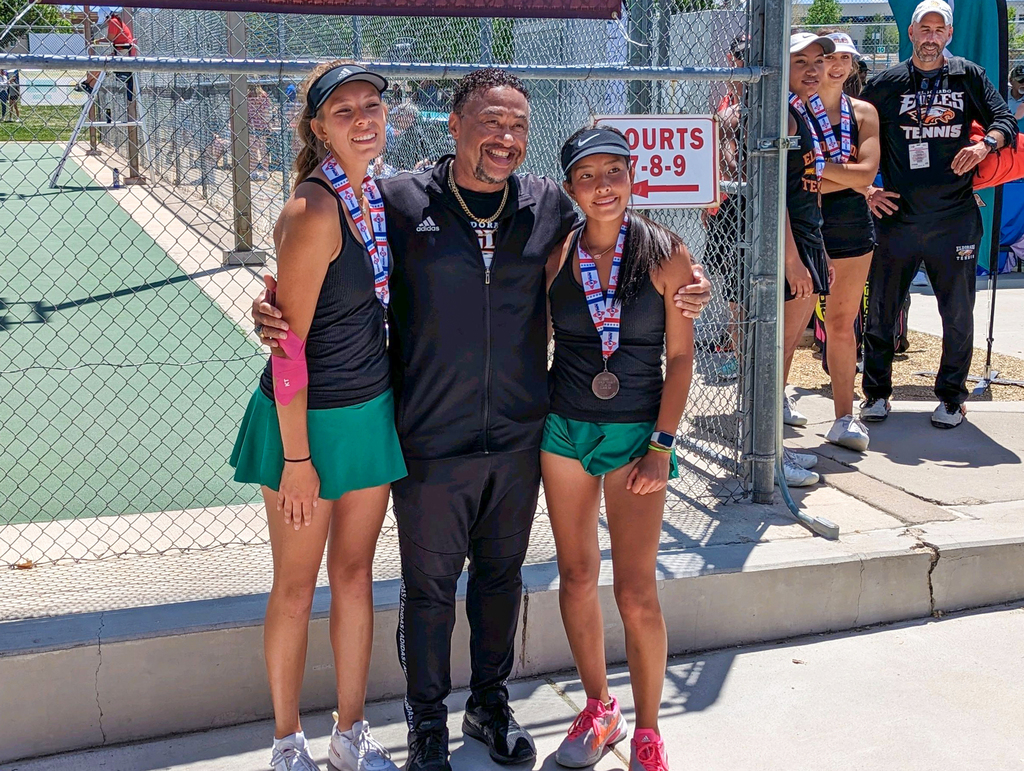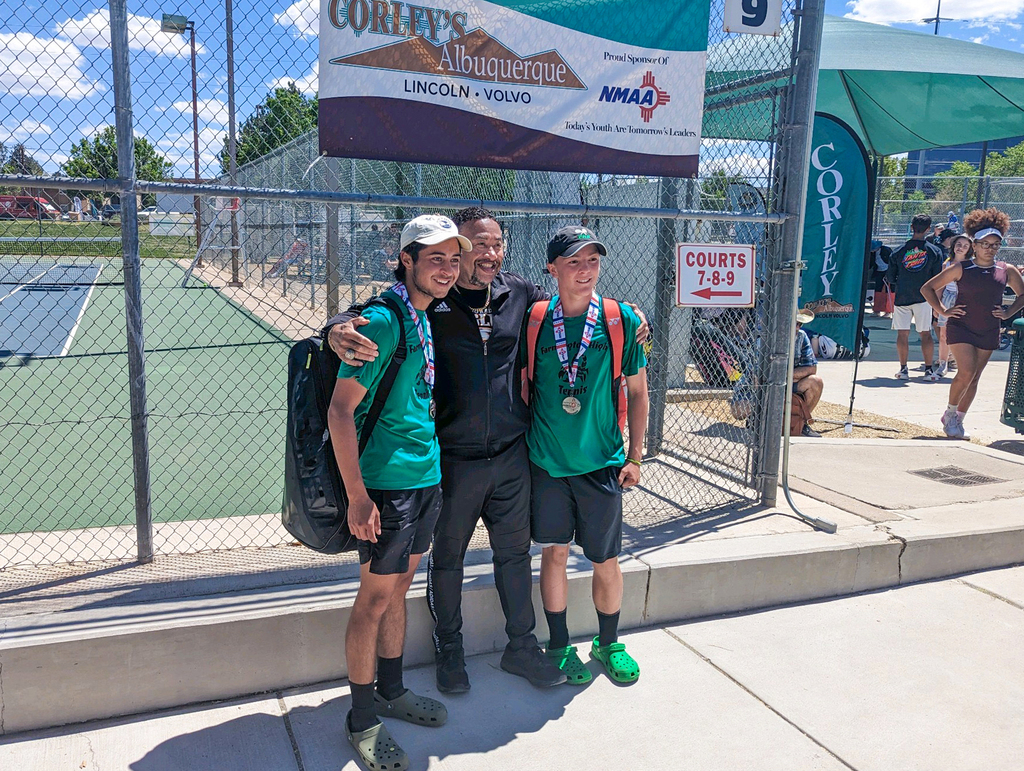 NMPED will provide FREE Algebra I High-Dosage Tutoring to 8th-grade students transitioning into 9th grade in the 2023-2024 school year. This program is designed to provide 8th-grade students a "jumpstart" into exploring the Algebra I content while providing just-in-time support to boost math skills. For more information, you can contact: 👉 Michelle Korbakes, ACCELerate NM Project Manager, at
michelle.korbakes@ped.nm.gov
or (575) 491-5773. You can also contact 👉 Ashleigh Trice, HDT Coordinator, at
atrice@swrecnm.org
. 👉 To register, visit: bit.ly/AlgebraHDT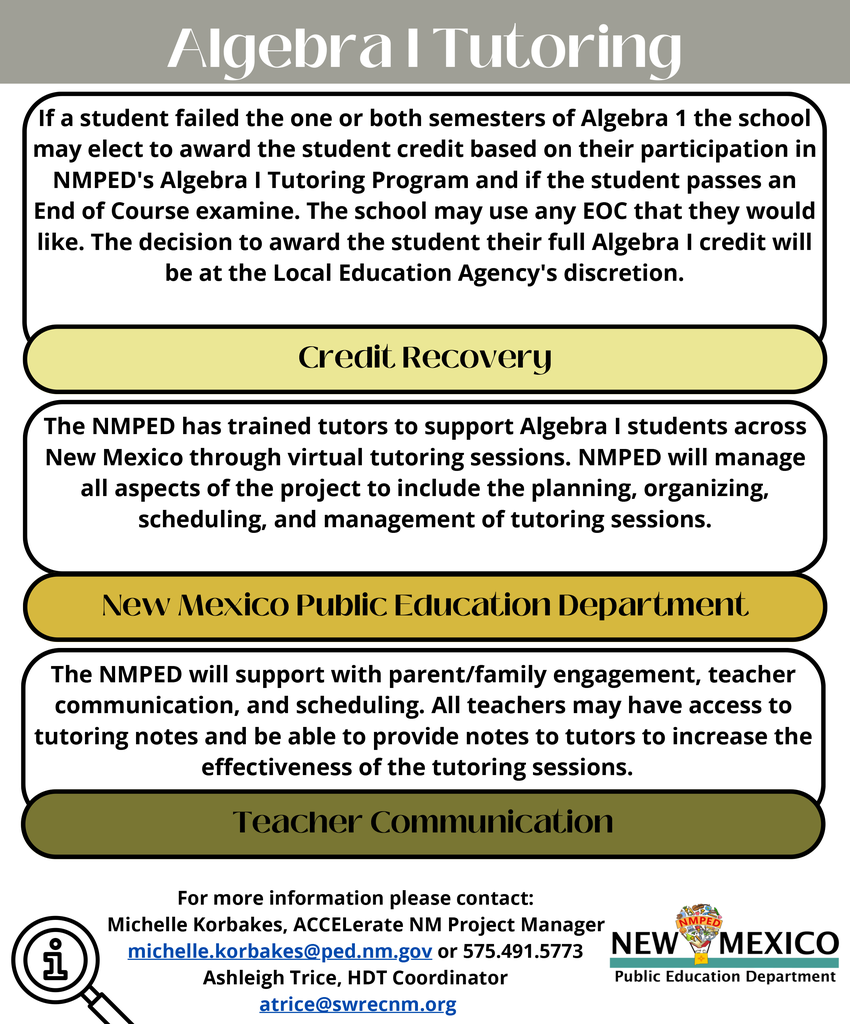 Earth Day Challenge 2023 Sign-up! On Earth Day 2023, all Farmington Municipal School students were given planting kits with zinnia and sugar snap pea seeds. The Earth Day Challenge is to plant your growing seeds at your home, in a pot, or in the ground and document your success. To sign-up for the challenge, visit
https://forms.gle/HoJcYWPgQ8MMKd998
. For information about Earth Day at FMS, visit
https://www.farmingtonschools.us/page/earth-day
.

ELA students at Apache Elementary School are learning from a fun activity this week - sand art classes! They are learning from a local artist named Noonie, who showed them the steps he follows, how to apply glue and pour sand onto a clean surface to create beautiful designs. "There is no right or wrong way to do it. Just use your imagination," he said. Sand art requires a lot of skill, patience, and creativity, and it can take several hours or even days to complete just one piece. The end result can be beautiful art that captivates and inspires. "How do you get different colors?" asked one of the students sitting in the front. "I get them from all over the place. Just look around and you'll see rocks of different colors. I got some of these from the Chuska Mountains and Two Grey Hills," he answered. We want to thank Ms. Jo Leiba-Jack and Ms. Cherise John, the teachers who organized this creative learning opportunity for our 3rd and 4th graders.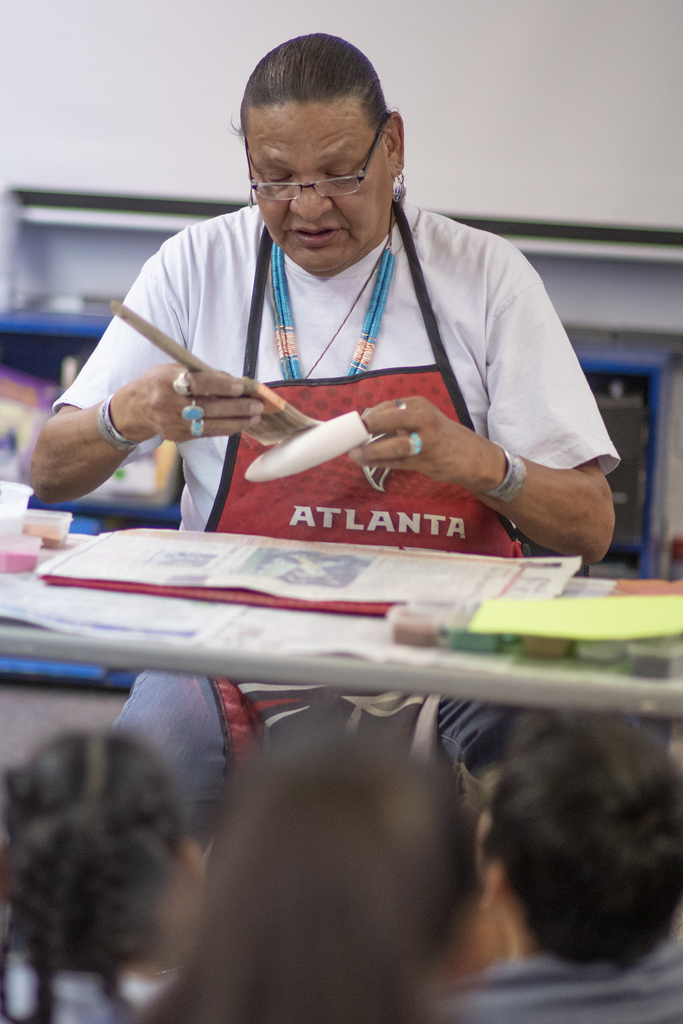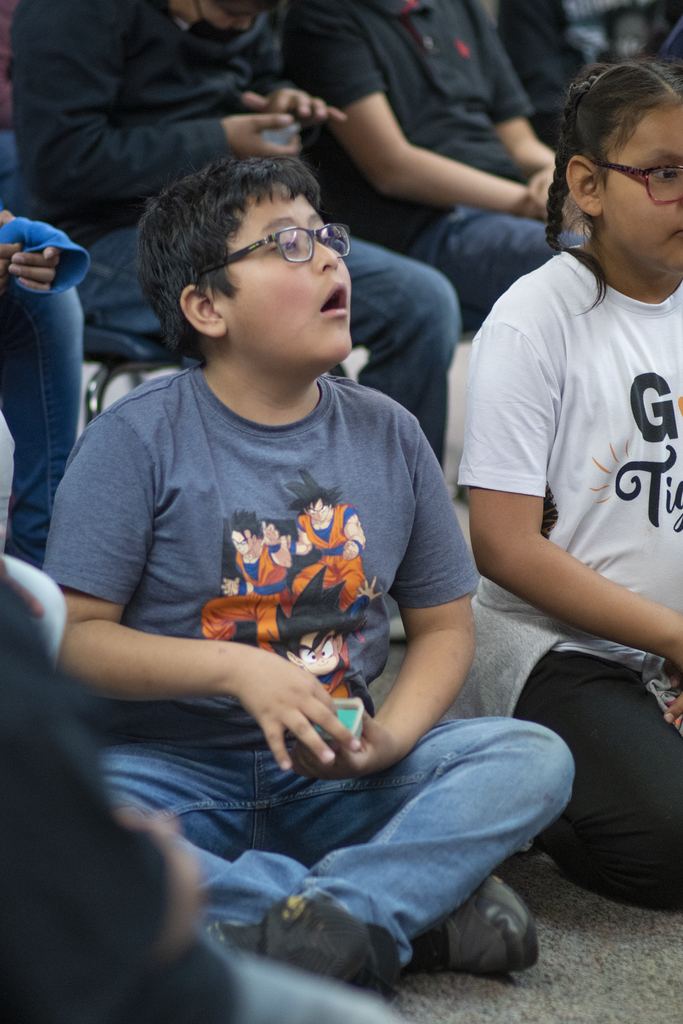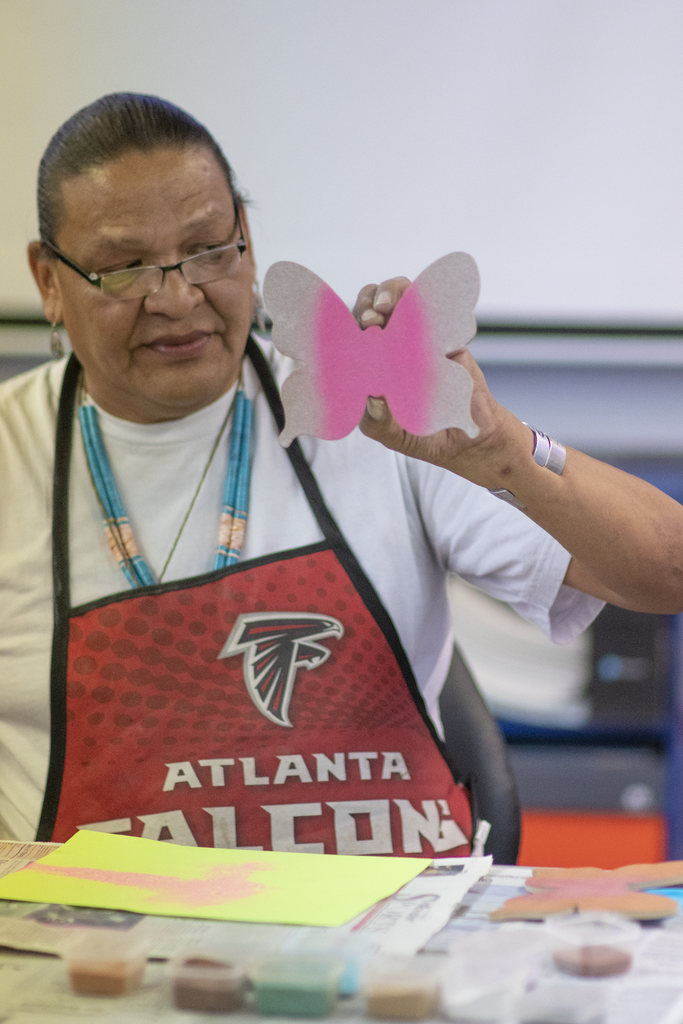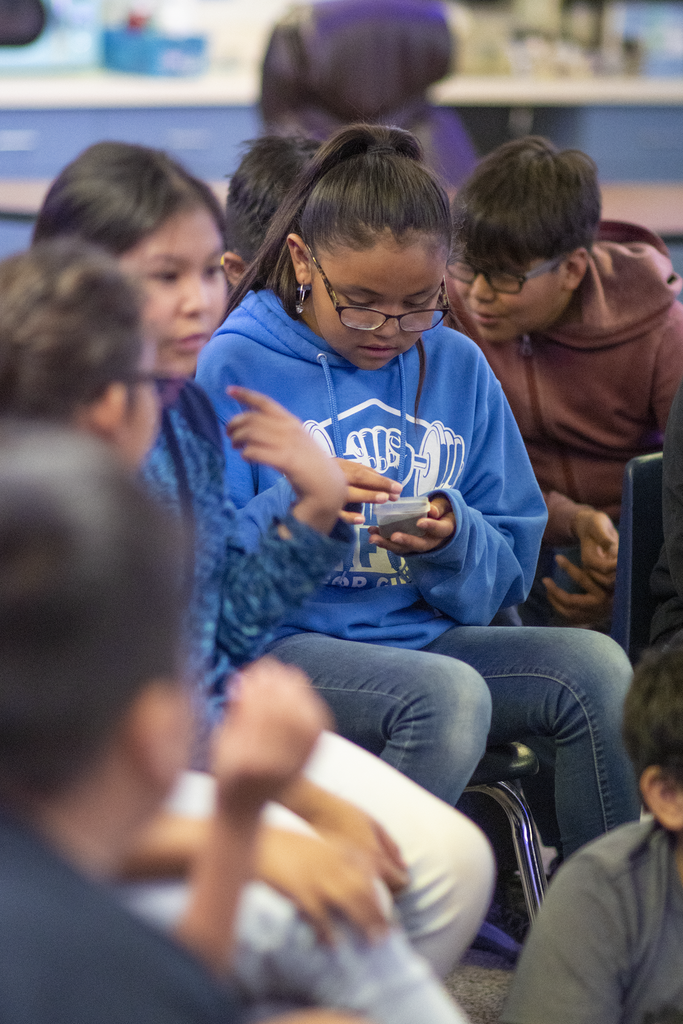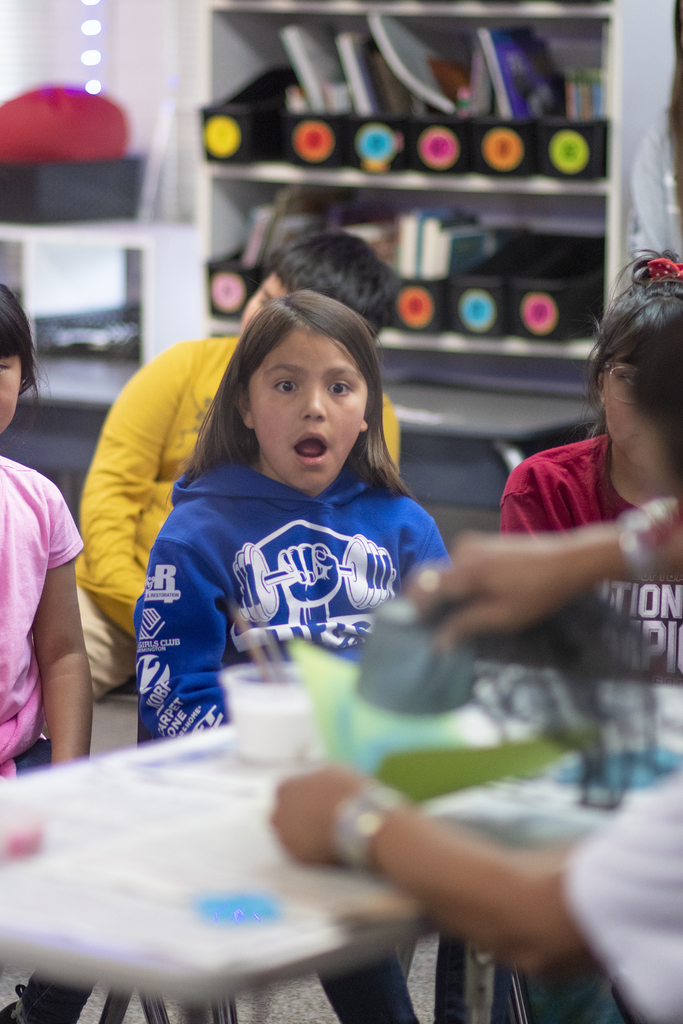 FMS In The News: Piedra Vista softball sweeps past Farmington. By Steven Bortstein, The Durango Herald. Behind a pair of tremendous performances from pitcher Emma Lovato, the Piedra Vista High School softball team rolled to a sweep of a doubleheader over crosstown rival Farmington Friday afternoon at the Sports Complex. Read more:
https://www.the-journal.com/articles/piedra-vista-softball-sweeps-past-farmington/