Class of 2021 Grading and Graduation Requirements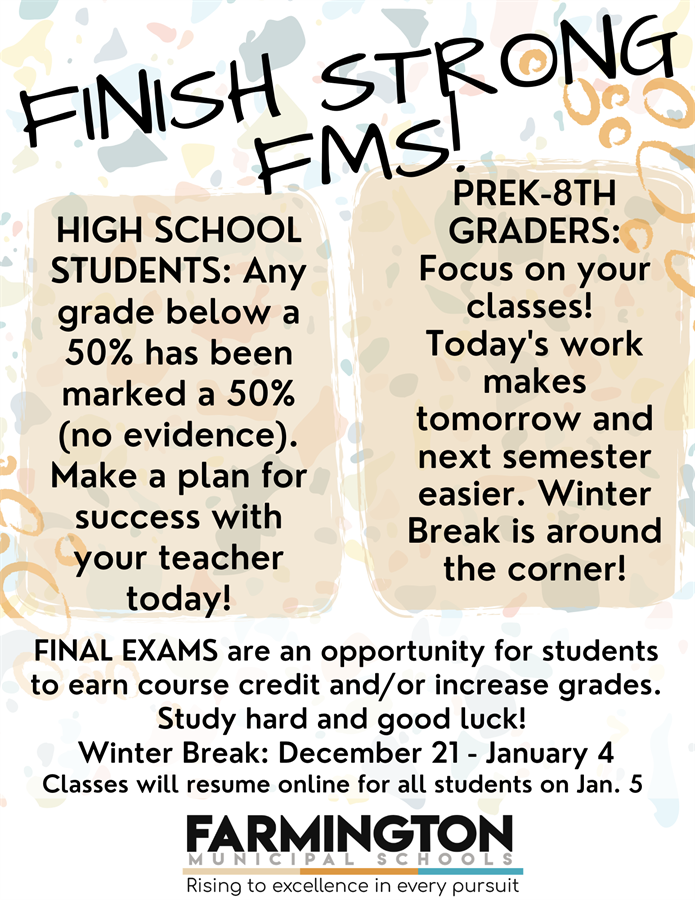 FMS data has shown the a large number of high school students at risk of failing courses during this unprecedented, lengthy shift to at-home learning due to the Covid-19 global pandemic. It's important to accept the magnitude of global and local events and circumstances, as these course
failures are symptoms of students and their families battling every day, real world issues as well as school closures and the social-emotional effects of a global pandemic. Despite the best efforts of our teachers and staff, access to the internet is also an issue to consider for some students. Taking all of those factors into account, equity is more important than ever, especially in our grading and reporting practices.
On December 8, FMS administration and the FMS Board of Education discussed and supported a plan to implement new procedures for Local Demonstration of Competency for the Class of 2021. These efforts follow New Mexico Public Education Department guidance and provide the additional supports:
Any student meeting course requirements for 2021 graduation are also considered to have met local demonstration of competency requirements, specific to state assessments.

Using assessment in place of seat time and for all students.

Providing an equitable and balanced grading scale that will be used for grading practices in which the bottom score of any grade is a 50% for all students.
The Equitable and Balanced Grading Scale is outlined in the Class of 2021 Local Demonstration of Competency Document.
Read the full announcement here.
All courses (such as dual credit courses) that are taken and received outside of Farmington Municipal Schools will be honored and transcripted as reported by the grade awarding institution.
Resources:
FMS Class of 2021 Local Demonstration of Competency Document.
What are experts and research saying about an Equitable Grading System?
Research expert Joe Feldman:
"Equitable grading has three pillars: accuracy, bias-resistance, and intrinsic motivation. Grades must accurately reflect only a student's academic level of performance, exclude nonacademic criteria (such as behavior), and use mathematically sound calculations and scales, such as rubric scoring instead of the 0–100 scale. Grading practices must counteract institutional biases that have historically rewarded students with privilege and punished those without, and also must protect student grades from our own implicit biases. Our grading must stop using points to reward or punish, but instead should teach students the connection between means of learning and the ends — how doing homework is valuable not because of how many points the teacher doles out, but because those actions improve a student's learning."
Doug Reeves: "Education leaders need to remember that some students go home to safe, two-parent homes, filled with books and technology, often supplemented with tutors. Others go home to challenges in housing, food insecurity, medical care, and family support. In some of these homes, success in school might be a lower priority. A commitment to equity means both groups of students have equal access to support, and that success in school doesn't depend upon the conditions of the home—in particular, that a student can achieve academic distinction based on the work they accomplish during the school day.
Providing students sympathy or diminished expectations doesn't answer the challenges of inequity. Providing them engagement, rigorous work, and support during the school day does. Effective grading policies are an essential part of combining rigorous expectations with meaningful feedback. For example, when students were missing assignments during March through June of 2020, giving zeroes for the missing work and then averaging in those zeroes to determine the final grade to give in June of 2020 would be ludicrous. Teachers had to evaluate student performance based on the latest and best evidence that they had available, not the average. Abandoning the average is not only a good practice during school closures, but should be part of grading reforms when students return to classrooms. In any learning environment, evaluation of student work should be based on their latest and best evidence."
Other research:
Grade Expectations: Why we need to rethink grading in our schools
By Lory Hough
Harvard Ed. Magazine
Accurate and Equitable Grading: Your grading system could be perpetuating inequities
By Joe Feldman
National School Boards Association
How Teachers Are Changing Grading Practices with an Eye on Equity
By Katrina Schwartz
KQED
What Traditional Classroom Grading Gets Wrong
By Joe Feldman
Education Week
Grading During the Pandemic: A Conversation
By Joe Feldman and Douglas Reeves
ACSD.org
Growing Beyond Grading
By Tony Winger and Kimberly Race
ACSD.org
A Roadmap for Equitable Grades
By Esther Ntuli and Shu-Yuan Lin
ACSD.org
The Case Against Zero
By Douglas Reeves